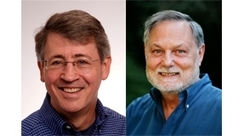 Together, we will explore how to augment fields of collective consciousness.
Petaluma, CA (PRWEB) March 8, 2011
Leaders who want to improve their impact on groups in both work and personal settings will learn to create and explore the energy of group dynamics in an intensive weekend workshop, April 1 to 3, 2011 at EarthRise at IONS. Led by Chris Bache, PhD, and Duane Elgin, MBA, MA, the workshop uses lecture, visualization, meditation, and energetic techniques to engage participants in an experiential setting.
During the workshop, Engaging Fields of Consciousness in a Living Universe: Practical Skills for Group Leaders in Times of Change, Bache and Elgin explore the workings of collective fields of consciousness, from local to planetary levels. Their inquiry will provide practical skills to group leaders for working with these fields in everyday contexts. It is grounded in the science of intention and the understanding that human consciousness is undergoing an accelerated and profound transformation at this moment in history. Together, the group will explore how to augment fields of collective consciousness, pooling experiences to more effectively create, problem-solve, and foster collective transformation. Drawing from their books—The Living Classroom and The Living Universe—they will share practical, hands-on strategies developed over more than 30 years.
The weekend workshop fee, which includes freshly prepared meals, is $295 before March 11, 2011, and $325 thereafter. Overnight lodging is $72 per night for a shared room or $97 per night for a single room.
Twelve Continuing Education Credits (CEC) are available for marriage and family therapists, counselors, social workers and nurses.
About the Presenters
Christopher M. Bache, PhD, professor of religious studies at Youngstown State University, is an award winning teacher, international speaker, and author of The Living Classroom, Dark Night Early Dawn, and Lifestyles.
Duane Elgin, MBA, MA, is an internationally recognized futurist, visionary speaker, author, and educator. Duane received the 2006 Goi Peace Award for his "vision, consciousness, and lifestyle" that fosters a "more sustainable and spiritual culture". His books include The Living Universe, Promise Ahead, Voluntary Simplicity, and Awakening Earth.
About EarthRise at IONS
EarthRise at IONS Retreat Center offers facilities for multi-day group workshops and retreats on the 200-acre wooded campus in the hills of Petaluma. Located just 30 miles north of San Francisco, EarthRise at IONS offers 120-bed lodging in single, double, and couple accommodations, a dining facility featuring California-style cuisine based on organic local foods, and EarthRise Books & Gifts. Favored by psychologists, educators, scientists, and spiritual masters, Earthrise at IONS offers ample indoor space, walking trails, and pastoral settings for group gatherings, experiential learning and quiet reflection. For booking information, visit the website booking page or contact Lisa Vanderboom at 707-779-8224.
Media Contact
Janet Dwinells
jdwinells(at)noetic(dot)org
707-779-8226
###