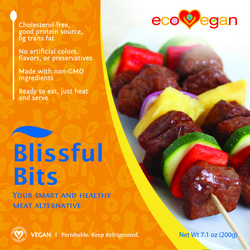 Our products are not only vegan and delicious, but are also good for you.
San Francisco, California (PRWEB) March 8, 2011
ecoVegan, the principal distributor of vegan food products to Loving Hut restaurants across the US, announced today the addition of Blissful Bits, a new product within its line of vegan meat alternatives. Blissful Bits, along with all ecoVegan meat alternatives, are aimed at helping the public to easily transition to a more healthy, vegan diet.
ecoVegan's Blissful Bits adds a new flavor to the current line of healthy meat substitutes that are pre-seasoned and fully cooked. This new addition will formally debut at the Natural Products Expo West 2011 this coming Friday through Sunday, March 11th – 13th. The Blissful Bits subtle flavor makes it versatile and great for many recipes, whether it be topped on a salad or filled in a sandwich. All ecoVegan products are made with natural, non-GMO ingredients and are cholesterol and preservative free.
"Our products are not only vegan and delicious, but are also good for you," said Sharon Lu, ecoVegan's VP of Business Development. "We're really excited about introducing Blissful Bits at the Expo West this coming weekend. Adding Blissful Bits means that consumers have even more choices when deciding on a healthy, meat-free meal," continues Lu.
ecoVegan, headquartered in San Francisco, California, is owned and run exclusively by a team of compassionate and environmentally‐conscious vegans. With a desire for a healthier and happier world, the ecoVegan team transforms this passion into a personal mission: Providing consumers with nutritious, delicious, affordable and natural vegan food to promote a compassionate and sustainable lifestyle. The meaty texture and tasty flavor of ecoVegan products make it easier for both meat-eaters and health-conscious individuals to transition to a meat-free diet without compromising their taste buds.
# # #