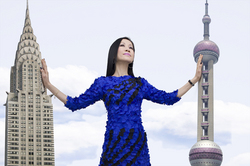 CHINA HAPPENINGS(TM) aims to offer the possibility of a true encounter with China.
New York, NY (PRWEB) March 4, 2011
CHINA HAPPENINGS(TM), a multimedia and advisory platform founded by Chiu-Ti Jansen to focus on the lifestyle and cultural industries of contemporary China, announces the launch of "CHINA HAPPENINGS" column in the New York Observer(NYO) Magazine, starting March 2011.
Written by Chiu-Ti Jansen, founder of the CHINA HAPPENINGS(TM) brand, the column brings an informed vantage point on contemporary Chinese lifestyle and culture -- with features covering from "the-sky-is-the-limit" art world to "branding New China" fashion, the "rich-by-30-and-retire-by-45" young new wealthy, "about-to-take-off" private jet markets, unstoppable Chinese buyers in the worldwide wine auctions, to "haggle-until-you-drop" business dealings.
The inaugural issue of the CHINA HAPPENINGS column will center on contemporary Chinese art that embodies all of the exploding promises and brilliant contradictions in Chinese society today. The article, titled "A New Yorker's Encounter with Contemporary Chinese Art," contends that contemporary Chinese art is leading the lifestyle industry revolution in China, ahead of fashion, design, architecture, music, dance, literature and other creative fields and that all of these creative disciplines are working to replicate the success of contemporary Chinese art, while at the same time wrestling with the transitions from "Made in China" to "Created in China." CHINA HAPPENINGS(TM) aims to offer the possibility of a true encounter with China.
According to Chiu-Ti Jansen, "In the United States there is tremendous fascination with what is happening in China; however, real-time access is often handicapped by a "Good China/Bad China" dichotomy that informs our public discourse. Media contents on China tend to focus on the economic, political and military ramifications of the rise of China. CHINA HAPPENINGS(TM), on the other hand, aims to bring readers to the multiplicity of contemporary Chinese culture and aesthetics and to capture how its fast-paced lifestyle and cultural developments are impacting our economic environments and the world at large." Through its publications and TV productions CHINA HAPPENINGS(TM) will introduce to the U.S. audience a new life style and taste that is "in the making" in China today.
Prior to founding CHINA HAPPENINGS(TM), Chiu-Ti Jansen was a New York-based corporate partner of Sidley Austin, an international law firm of approximately 1,700 lawyers. CHINA HAPPENINGS(TM) grew out of her life-long fascination with multicultural and multilingual identities. She believes that encountering a foreign culture is becoming the quintessential and defining experience of being in today's world. A native speaker and writer of Mandarin Chinese, she regularly contributed to the China Times, the United Daily and the Artist Magazine. She translated Testimony: Crises of Witnessing in Literature, Psychoanalysis, and History, a book about the Holocaust testimonies, into the Chinese. Ms. Jansen holds a B.A. from the National Taiwan University, an M.Phil. from Yale University and a J.D. from Columbia University. She previously served as a member of the Board of Directors of American Composers Orchestra and a member of the Asia Committee of the New York City Bar Association. Currently, she is a member of the Contemporary Art Advisory Committee of China Institute in America and a life member of the Elizabethan Club (for Renaissance Studies) of Yale University.
An electronic version of the inaugural issue of the CHINA HAPPENINGS column by Chiu-Ti Jansen, titled "A New Yorker's Encounter with Contemporary Chinese Art," is available through the website of the New York Observer at: http://www.observer.com/content/nyo-magazine-upper-west-side-issue (printed edition page reference: 34, 36).
# # #