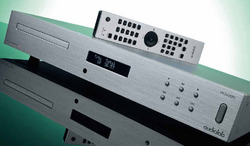 (PRWEB) March 7, 2011
Audio Visual Revolution Pty Ltd is delighted to announce the launch of two new Audiolab CD players, the 8200CD and 8200CDQ. The new players are the first products to emerge from Audiolab's latest generation of audio components, the 8200 Series, sporting clean-sheet circuit design and supplying a unique array of facilities and connectivity options, including high-definition USB ports. The 8200CD is priced at $1,499.00 and includes the following highlights:

Exceptional connectivity, including a USB port and XLR outputs
USB port can be used to enhance the quality of digital audio playback from a PC, Mac etc.
Any PC/Mac media player (iTunes etc.) can be controlled via the Audiolab's remote control
USB port also allows the player to be upgraded via firmware updates in the future
Four selectable digital filters enable the user to tailor the sound to his/her own taste
Ultra-high-quality 32-bit DAC from ESS Technology
Proprietary, discrete master clock ensures ultra-low jitter
Balanced, discrete, Class A output stages maximise sound quality
The 8200CDQ is priced at $1,999.00 and sports the same specifications as the 8200CD with the addition of a complete digital/analogue preamplifier, all in an identically sized chassis.
While most CD players are designed purely for CD playback, the 8200CD and 8200CDQ have been created with flexibility firmly in mind. Their architecture is perhaps best described as a DAC + CD, rather than as a CD player in the traditional sense. The DAC (Digital-to-Analogue Converter) is the cornerstone of their design, which is why Audiolab has chosen the Sabre 32-bit audio DAC from ESS Technology to carry out D-to-A conversion.
This DAC solution is rarely used in CD players because it is much more expensive than other audio DACs, and players that incorporate it usually cost many thousands of pounds. However, Audiolab believes that this is the best sounding DAC currently available, so rather than reverting to the cheaper modules found in most CD players, the ESS Sabre is embedded at the heart of the 8200CD and 8200CDQ.
The provision of digital inputs – optical, coaxial and USB – means the 8200CD and 8200CDQ can be used to deliver top-quality sound from all kinds of digital sources, including audio files from computers and other media devices. Thus, all music benefits from the superb sound quality produced by the players' DAC and discrete Class A output stages.
While most USB connections only support data up to 16-bit/48kHz, the 8200CD and 8200CDQ accept data right up to 24-bit/96kHz via USB, with bit depth and sampling frequency shown in real time on the player's LCD display. In addition, the USB link is asynchronous – this means data is regulated by the master clock in the player, rather than by the computer at the source, thus helping to minimise jitter (digital distortion).
The user can control the media player on his/her PC or Mac via the Audiolab remote, with the control signal transferred back to the computer via the USB port. This facility is driverless (in other words, it is built into the operating system) and is compatible with all media players – Apple iTunes, Windows Media Player etc.
Both the 8200CD and 8200CDQ incorporate a clock-locked CD transport, delivering excellent CD sound quality. All digital music, whether from CD or an external source, benefits from four selectable filter settings:
Slow Roll-Off (delivers a smoother style of sound)
Fast Roll-Off (delivers a crisper style of sound)
Optimal Spectrum (delivers a flat response and optimal lab measurements)
Optimal Transient (enhances transient response, thus promoting sonic pace and flow)
Users may switch between these settings via the remote, thus tailoring the sound according to taste. In blind listening trials conducted during development, the Optimal Transient setting proved most popular, closely followed by Optimal Spectrum. Users may decide to stick to their favourite filter setting or, if they wish, switch between the various settings to suit different music and recording styles. New filter upgrades will be made available for users to download and install via USB in the future.
# # #