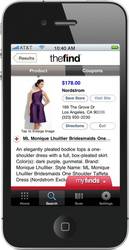 in the very near future we see a somewhat parallel and largely untapped opportunity emerge with tablet computers enabling apps for new browsing and discovery shopping experiences
San Francisco, Calif. (PRWEB) March 4, 2011
TheFind, provider of the best in-store price comparison app which has been featured in The New York Times, Wall Street Journal, and c|net amongst others, today reported that the number of searches coming from mobile devices and apps now accounts for nearly 20% of the total number of shopping searches TheFind handles daily. The company also noted that since its launch last year, TheFind Mobile has been downloaded more than 1 million times across the iPhone and Android platforms, having occupied the top slot in the lifestyle category in the iTunes app store during some of the peak shopping weeks.
"On mobile devices, using a single app which aggregates shopping and pricing information from every store, as opposed to individual store or even marketplace apps, makes a lot of practical sense. Our mobile usage and download data suggest that this is increasingly what consumers are choosing," said Siva Kumar, CEO of TheFind. "Moving forward, this trend could accelerate as consumers empower themselves to comparison shop hundreds of thousands of online sites during their local mall visits, and in the very near future we see a somewhat parallel and largely untapped opportunity emerge with tablet computers enabling apps for new browsing and discovery shopping experiences."
Curiously, TheFind noted, that within its data is a metric suggesting people remain uncomfortable sharing location-based information with mobile apps until they discover reciprocal value. "We found that two-thirds of our users initially choose not to enable location-based services. However, almost all users start to either share their zipcode or enable location-based services once they click our 'nearby' tab to search for items at local stores," said Ramneek Bhasin, VP/GM Mobile at TheFind. "This suggests that consumers are increasingly becoming privacy-conscious but are willing to exchange information for real value, such as lower prices on the same product discovered within driving distance."
In addition to announcing metrics covering the reach of its mobile apps, TheFind also announced the addition of important new capabilities to its shopping apps. The first user benefit is the addition of sharing functionality, which allows people to notify their friends of items they searched on the web or scanned at a local store. The second is a unique alert functionality, which informs shoppers of price drops – as they become available – on the products they've tagged to shop.
TheFind Mobile is available as a free download for iPhone and iTouch via Apple's iTunes Store and for the Android phones at several marketplaces, equipping shoppers to search, compare and shop with just a scan or the touch of a finger
About TheFind
TheFind makes it easy to shop, for anything you like, in every store, all at once. Made possible by patented search and discovery technology, TheFind is the shopping engine people return to more than any other according to comScore's measure of comparison shopping engines. Ranked number 12 on the 2010 Inc. 500 list of fastest growing private companies, TheFind was founded in 2005, has been profitable since late 2008, and was venture funded by Bain Capital Ventures, Lightspeed Venture Partners and Redpoint Ventures. TheFind is a San Francisco and Silicon Valley-based company.
###