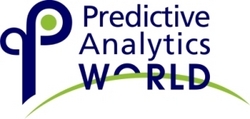 San Francisco, CA (PRWEB) March 4, 2011
Do you want to take your knowledge of your business data to the next level? Forecast your customers' needs? Make the most of analytics tools? Don't miss the special workshops at Predictive Analytics World--the must-attend conference for anyone wanting to maximize data analytics. March 13-19, 2011 in San Francisco.
It all begins with pre-conference sessions for Predictive Analytics World (PAW), a must-attend business-focused event for practitioners at all levels, on March 13. The conference itself features keynotes and special sessions by industry heavy-weights Sugato Basu, Ph.D. (Google),Tom Davenport (Author), Eric Siegel, Ph.D. (Predictive Analytics World Conference Chair), Andreas Weigend, Ph.D. (formerly Chief Scientist of Amazon.com), John Elder, Ph.D. (Elder Research), and many, more.
At Predictive Analytics World, you will hear from experts in the trenches and benefit from knowledge gleaned through 40 case studies from leading enterprises, including Bank of America, Hewlett-Packard, Orbitz, PayPal, Fidelity Investments, Pfizer, Sirius XM Radio and Monster Worldwide. Two conference tracks, one for "All Audiences" and another for "Expert/Practitioner" ensure a rich learning experience for all participants.
If you're familiar with the basics of predictive modeling and want to gain real insight into predictive analytics, consider a 1-day post-conference workshop: Hands-On Predictive Analytics taught by renowned expert Dean Abbott. This specialized training session puts predictive analytics into action, leading participants through the industry standard data mining process, from business understanding through model deployment driving a state-of-the-art data mining software product. In this way, attendees gain direct experience applying this "best practices" process, and ramp up on an industry-leading tool. The workshop will begin at 9am on Thursday, March 17.
Other great workshops include: James Taylor's pre-conference session: Driving Enterprise Decisions with Business Analytics or check out Predictive Modeling Methods and Common Data Mining Mistakes with John Elder, Ph.D.. Attendees worried about retention "casualties" should attend Kim Larsen's Net Lift Modeling workshop or if you want to execute on predictive analytics using the R language, attend the Hands-On Intro to R taught by Pfizer's Max Kuhn.
Whether for ad-targeting, forecasting customer needs or reducing enterprise risk, these predictive modeling and analytics workshops will identify both business risks and opportunities and improve your marketing effectiveness.
Predictive Analytics World is supported by the following sponsors: IBM, SAS, Information Builders, Deloitte, ParAccel, Terradata, Infogroup, Mu Sigma, Netezza, Oracle, Predixion Software, Revolution Analytics, SAP, StatSoft, Sybase, Forio Business Simulations, Fractal, Fuzzy Logix, Gnip, Salford Systems, Decision Management Solutions, Miner3D, Opera Solutions, Simul8, Yottamine Analytics, Zementis, IDMA, IIA, INFORMS, Applied Forecasting, CustomerThink, Data Mining Group, and KDnuggets.
Part of Data Driven Business Week, Predictive Analytics World is one of three co-located conferences designed to push your business to the next level through the effective use of data analytics. Or consider attending Conversion Conference if you want to improve website conversions, or the eMetrics Marketing Optimization Summit to learn how to increase your return on online investments.
To register for the workshops or for more information on the conference, please visit http://www.predictiveanalyticsworld.com/sanfrancisco or view the agenda at-a-glance: http://www.predictiveanalyticsworld.com/sanfrancisco/2011/agenda_overview.php.
About Rising Media
Rising Media is a specialized media company excelling in the production of business technology-related conferences and exhibitions. Rising Media currently produces events including eMetrics Marketing Optimization Summit, Conversion Conference, Search Marketing Expo, Predictive Analytics World, Internet Marketing Conference, AffCon, Web Effectiveness Conference and Building Business Capability in the US, Canada, UK, France, Germany, Sweden and Australia. See http://www.risingmedia.com for more information
###