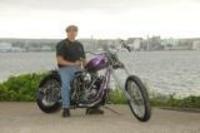 Chi Rope bridges the gap between the mind-body connection.
Erie, PA (PRWEB) March 7, 2011
The new Chi Rope is a patented hand-held instrument that induces external energy from the outside and releases it to the inside of the body. By applying the principals of neuroscience, vibration, magnetism, sound and weight Dr. John Lombardozzi, inventor of the Chi Rope, has tied the gap between the mind-body connection for total body balance.
Dr. Lombardozzi's eclectic background of mechanical aptitude and medicine lead him to identify an abnormal gait pattern on his patients that affected their overall health. This lead to the invention of the Chi Rope a.k.a. the Kinesthetic Method of Conditioning. The abnormal gait pattern was causing constant stress on many of the body's systems and compromising the vital chi.
The Chi Rope may be used in a set regimen or in conjunction with any physical activity. The resonating chamber on one end of the Chi Rope releases magnetic vibratory forces into the body. The connection between the mind-body is thus re-established.
The Chi Rope uses a different approach to health and well-being by enhancing the body's own natural energy.
# # #