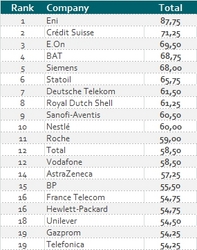 US companies are doing a fantastic job in keeping relations with their stakeholders using social media, an area where European companies are clearly behind
Stockholm, Sweden (PRWEB) March 7, 2011
The study reveals that the companies generally are good at incorporating technical design functionalities to their websites. UK companies are leading in the section, mainly due to their accessibility regulations.
Areas where companies need to improve their online corporate communications include financial information, corporate governance and press rooms.
European companies in top
The best company for online corporate communications among the Global 100 is Eni, who has dominated both the Italian and the European rankings for several years. Crédit Suisse ranks second among the 100 largest companies in the world at 71.25 points, closely followed by German energy giant E.On at 69.5 points.
Hewlett-Packard is the only American company which qualifies into the top 20, and none of the 17 Asian companies are found within the top 30.
"European companies have a longer tradition of online transparency which is confirmed by the Global 100 list. There are many factors affecting this, for example differences in European, US, and Asian regulations regarding disclosure of information about publicly traded corporations. The European market simply has a higher demand of information, and the large companies respond accordingly. However, US companies are doing a fantastic job in keeping relations with their stakeholders using social media, an area where European companies are clearly behind," says Marcus Ericsson, Head of KWD Webranking.
On average, the world's 100 largest companies fulfill 45.7% of the criteria in the survey. Scores range from 18.5, Berkshire Hathaway who were 100th, up to the winner Eni with 87.75 points.
About KWD:
We're KWD – the online corporate communications specialists. Through research, strategic advice and by being able to execute our advice we help our clients to communicate effectively with their target groups both on their own web estate and in social media. We are based in London, Stockholm and Dubai with partners in Milan, Lisbon and New York. Find out more about us on http://www.kw-digital.com.
Follow KWD at http://www.facebook.com/kwdigital and http://www.twitter.com/kwdigital
KWD Webranking
KWD Webranking is the established international yardstick of corporate website performance. It has been conducted annually since 1997, first by Hallvarsson & Halvarsson, now by KWD – both part of King Worldwide.
The evaluation criteria are updated every year according to the shifting information requirements by stakeholders. In the 2010 edition, 127 criteria were included. More than 900 corporate websites in 28 countries are included in 2010's edition of the ranking. The included companies are chosen by market capitalization.
Attached: Full KWD Webranking Global 100 release and KWD logotype
###