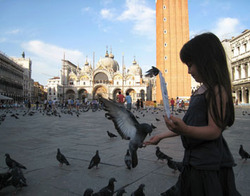 the most beautiful and educational family vacations we have ever experienced... we've joined Carousel in Taormina, Venice & Florence, and can't wait for Barcelona! - Paula, mother of 4
New York, NY, USA (PRWEB) March 16, 2011
New York City's highly regarded children's foreign language program, The Carousel of Languages, is currently accepting reservations for the 7th year of its popular Family Travel Program, a unique linguistic and cultural journey for children and their families. Exclusive accommodations are reserved in Starwood Luxury Collection 5-star hotels, and 7-night family vacation package rates begin at affordable price points.
"Children participate in a week-long program exploring foreign language, culture, architecture, and art," explains Patrizia Saraceni Corman – who is a mother and the Founding Director of The Carousel of Languages (formerly known as Italian for Toddlers). "Each day children enjoy unique, fun-filled excursions and exciting customized adventures – while accompanied by trained teachers, professional tour guides, and myself."
An added bonus: grownups get time off to explore cities at their own pace while their children have their own guided adventures. Parents can take advantage of free time or join their children during the learning program hours, which run 10AM- 2PM. At night, the group comes together for dinner, where the children enjoy playing with new friends. Dinners take place in the most delicious outdoor restaurants in a local campo or plaza, or the group dines directly on the beach. (Participation in the group dinners is completely optional). It's the ultimate European family vacation.
The Carousel of Languages' first family vacation is to Barcelona, Spain (June 27 – July 4) where families will stay at the ultra chic beachside W Hotel, the most modern and luxurious accommodations Barcelona has to offer. In addition to a multitude of seaside activities, children will explore the city's rich culture: tasting the many flavors of tapas and other local cuisine, learning to dance the flamenco with professional performers, experiencing the art of Antonio Gaudi, seeing the best views of Barcelona from the mirador at the Tibidabo Amusement Park.
The second trip, the week of July 4 – 11, is a family vacation to the enchanting City of Water as Carousel travels to Venice, Italy. Families will receive 5-star treatment at the Westin Europa & Regina, overlooking the Grand Canal and centrally located to the city's best attractions. Program activities will include authentic Venetian mask making with local artisans, climbing to the top of the four horses in St. Mark Square, culinary exploration of local delicacies, a gondola ride through the city's many waterways and discovering secret hidden alleys and ancient bridges.
All travel arrangements are coordinated through Paige Kevan and Associates, the luxury travel management company. Paige's extraordinary attention to detail has led to a stellar international reputation. She is the first choice when booking accommodations for the Rolling Stones and for exclusive private clientele, such as Mick Jagger, Madonna, David Letterman and Conan O'Brian.
Fees

Carousel Program Fee: 5-day program, 10am-2pm. Includes tour guide, foreign language teacher, workshop/entrance fees and lunch. $1250 per child.
7- night room rate range for families of 3 & 4:
Barcelona / W Hotel = $3,370 - $4,910
Venice / Westin Europa & Regina = $4,320 - $5,265
*rates do not include airfare*
About The Carousel of Languages:
For over 10 years, The Carousel of Languages LLC and Italian for Toddlers Inc. have been enriching the minds and spirits of young children through the discovery of foreign language. The foundation of the program is the educational advantage and intellectual stimulation gained through early exposure to a foreign language. Carousel of Languages family vacations create indelible memories and unparalleled foreign language learning opportunities for children.
For More Information Please Contact:
Patrizia Saraceni Corman, Founder & Director
The Carousel of Languages, LLC.
385 West End Avenue
New York, NY 10024
Phone: 212-501-8524
Email: patrizia(at)carousellanguages(dot)com
Or visit the website: http://www.carousellanguages.com
###