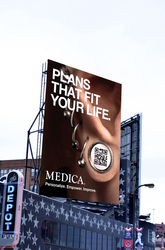 Minneapolis, MN (PRWEB) March 10, 2011
LEVEL, a global brand and marketing agency, announces new work on behalf of Medica that is the first of its kind by a major health plan—using embedded QR barcodes to provide consumers with immediate price quotes on health plans from their mobile phone. The campaign, which will begin rolling out this week on metro billboards, bus shelters and skyways signs, is targeted toward individuals who are not eligible for group coverage such as the self-employed, college students and unmarried couples.
The use of QR codes is the latest example of how Medica is using technology to connect with consumers and help them make informed decisions about their health care. Medica was one of the first health plans to provide comparative cost and quality information about prescriptions, procedures and treatments online at http://www.MainstreetMedica.com and recently was the first to introduce an iPhone app called "Main Street Medica Mobile" that gives consumers access to the same health care cost information from their mobile device.
"Medica meets the unique and changing needs of today's consumer through both its individualized health plans and its use of mobile technology to provide consumers with relevant information when and where they need it," said Kim Thelen, LEVEL's vice president of strategic planning and client service. "This campaign and the QR codes help Medica engage with a large and diverse audience, using an impactful way to establish a dialogue with individuals in need of a health plan."
The new campaign touts "plans that fit your life" and uses visuals to depict its target audience from a young invincible to a single mom and a lesbian couple. Each ad includes a QR code that can be scanned by smartphone users who have a QR code reader (which can be downloaded for free at http://www.neoreader.com) to connect them instantly with information on Medica's individual health plans and quotes.
About LEVEL
LEVEL is a global brand and marketing agency headquartered in Minneapolis. LEVEL was founded 20 years ago by John Foley, CEO and author of Balanced Brand, How to Balance the Stakeholder Forces that can Make or Break Your Business. For further information about LEVEL visit http://www.levelbrand.com or call (612) 338-8000.
###