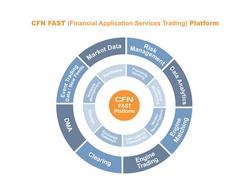 CFN Managed Trading Infrastructure is designed to optimize the trading process and market data delivery while controlling expenses for our clients.
Herndon, VA (PRWEB) March 7, 2011
CFN Services a leading provider of managed high frequency trading infrastructure services, today announced that it has added optimized delivery of North American exchange feeds on its global low latency trading infrastructure platform which dramatically reduce latency between, and within, US and Canadian trading venues. This eliminates the need for clients to invest in low latency circuits and instead utilize CFN Managed Trading Infrastructure Platform to deliver their market data cost effectively and with leading low latency. The CFN Managed Trading Infrastructure Platform seamlessly integrates the CFN Financial Ecosystem, which provides clients with a wide range of complimentary market data, news, service and application providers. The CFN Financial Ecosystem is consistent with CFN's policy of being vendor neutral to provide the best of class solutions.
CFN Low Latency Market Data Delivery is designed to provide best of breed solutions for each client and insure reliability, performance, and a lower overall operating cost by employing:

Optimized Infrastructure - CFN maintains an evergreen structured technology refresh program which can quickly and seamlessly react to market demands and changes
Resiliency – CFN practice is to maintain redundant connectivity to all data sources
Flexible configurations – as business needs and trading strategies evolve services can be quickly modified to meet current requirements
Lower cost of ownership - Fully managed solutions to include the market data, connec-tivity and managed hosting
Scalability – CFN can support requirements ranging from a single server in a single location to an interconnected global deployment
Support – from a 24x7 operations center to on-demand access to a pool of interdisciplinary talent throughout a client's entire systems life cycle, from needs determination, evaluation, implementation, deployment, enhancements, and maintenance
Sebastian Yoon, CFN Vice President of Financial Services, states, "CFN Managed Trading Infrastructure is designed to optimize the trading process while controlling expenses for our clients. For example we are able to reduce delivery latency of CME, NYSE, BATs, and ARCA market data between Chicago and New York to 14.6 milliseconds, while streamlining expenses for clients by eliminating the need to run redundant individual data circuits."
###