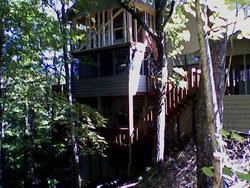 I needed a qualified builder to do small but very important repairs on our home…We called Ken.
Sevierville, TN (PRWEB) March 6, 2011
Building on the side of a mountain can be problematic for some builders, but not Ken Loomis Construction. With familiarity building numerous cabins in the Great Smoky Mountains, this was just another job. Without question, working on steep banks, jacking up a three story home, takes a little bit of careful planning, but KLC was up for the task. There was several foundation piers that needed to be repaired with more steel and concrete poured to sure up the existing piers, along with replacing six (6) structural posts. It wasn't an easy task on the mountain side of the Sharp's home, but it was successful.
After the completion of repairing the foundation piers and replacing the outside stairs, KLC went to work renovating the third floor porch and turning it into a home office and work space for Dave. The job may sound easy, but when you're 50-60 feet off the ground installing siding, well, things can get a little touchy. The experienced crew of KLC built the proper scaffolding and without incident completed the task at hand. Like many jobs, changes were made in mid construction, but with communication between the Sharp's and Ken, and the hard work of KLC's workers and subs, the job was completed on schedule.
"The work exceeded my expectations and his job cleanliness was exceptional." Mr. and Mrs. Sharp were certainly pleased with the results to their home.
###