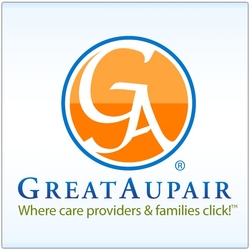 Affiliates will play an important role in communicating our value to new customers. Their success will be our success
Gardnerville, NV (PRWEB) March 9, 2011
Commissions of $25 - $75, amongst the highest in the industry, will be paid to affiliates participating in the newly launched GreatAuPair.com affiliate marketing program (http://www.greataupair.com/affiliates.cfm). With over 60 million families seeking care givers, there's a significant and tangible market opportunity. Affiliate marketers participating in the GreatAuPair program will tap into this opportunity through high-converting ads and social media. GreatAuPair.com (http://www.greataupair.com), the leading international online job matching service used by families to hire trustworthy care providers, has teamed with Paulson Management Group, Inc., to provide proactive affiliate management through the Commission Junction network.
Since 2001, GreatAuPair has helped over 1,000,000 families and care providers safely connect online for local and international care jobs. GreatAuPair provides a valuable service through the entire life cycle of a family – from au pairs, nannies, baby sitters, tutors, housekeepers, special needs care, pet sitters, personal assistants, and personal chefs to senior care. GreatAuPair is dedicated to superior service as evidenced by over 6,000 customer reviews and a match success rate of 90 percent over the past 10 years. The award winning GreatAuPair website enables families to find trustworthy care providers with confidence.
GreatAuPair makes it safe to connect online through advanced security measures and a Parent Editorial Team™ that carefully screens all profiles. GreatAuPair's proprietary 30-point anti-fraud system indentifies potentially abusive or fraudulent activity and eliminates it immediately. Customers remain in control of their own privacy through a secure double-blind email system. Professional, friendly support staff is available every day via email and phone to ensure each customer's success.
"We created GreatAuPair.com to add balance to families' lives; making it safe and easy to hire quality care givers worldwide. Affiliates will play an important role in communicating our value to new customers. Their success will be our success," said Shannon Pitts, CEO of GreatAuPair.com.
To professionally manage its affiliate program, GreatAuPair.com has selected Paulson Management Group Inc., a full-service affiliate management company out of Boulder, Colorado. PMG is the premier affiliate management agency with proprietary technologies built to streamline sales efficacy for the affiliate programs under their managed care. Affiliates interested in learning more details about, and signing up for the GreatAuPair affiliate program, should visit http://paulsonmanagementgroup.com or http://greataupair.com/affiliates/cfm.
With thousands of new members each week, GreatAupair.com is the original and most trusted international job matching service used by families to find affordable, trustworthy caregivers, providing a safe place to easily connect, get advice and hire with confidence. Visit http://www.GreatAuPair.com to learn more.
###