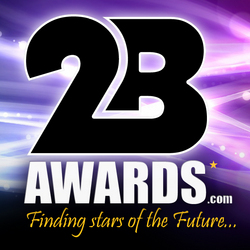 2B Awards The Path to Stardom
Ft. Lauderdale, FL (PRWEB) March 8, 2011
The 2B Awards, announces their first winner, Katie Barnett, from Sioux Falls, South Dakota. Ms. Barnett's video received the most votes in the competition, and was awarded a $1,000.00 cash prize from the 2B Awards based in Fort Lauderdale, Fl.
Katie Barnett video testimonial
"This is exactly how it's supposed to happen," said Robert Kenneth, CEO of the 2B Awards. "Talent exists in every town throughout the World, regardless of size, and we are out to find the Stars of the Future and showcase their talent," he said.
Ms. Barnett, a 29-year-old mother with dreams of being a music teacher, could hardly believe that she had won. "I entered the competition because I love to sing," said Barnett, "I had no idea or ever even gave it a thought that I might win!"
Katie Barnett video testimonial
Barnett won the $1,000.00 award, her video now has a chance to be viewed by agents and promoters in the professional music business that are associated with the 2B Awards website. Her video now qualifies for the 2B Awards Finals.
The 2B Awards is gathering momentum! Unlike other social media sites, the 2B Awards is an organized monthly competition where people upload videos in a variety of different categories. Videos are voted on by visitors to the website http://www.2Bawards.com. Winners receive cash prizes and can win up to $10,000.00! The 2B Awards is closely associated with leading Talent Agencies and Record Label companies. Top Agents looking for the Next Big Star view the winning videos.
The 2B Awards is the preeminent showcase for talent where every day people now have an opportunity of getting discovered! "Up until now, you needed inside connections in the music business or famous family members to have any chance of becoming a star," said Kenneth. "I am out to level the playing field so that talent and not connections is the deciding factor on who makes it in this business," he said.
It's Showtime…
Media Contact
Melissa Toros, COO
The 2B Awards
954-564-1429
# # #