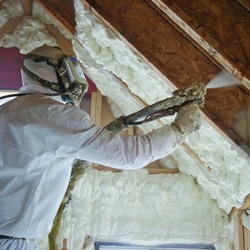 "As people become more concerned about indoor air quality, certifications like Greenguard, and sprayfoam insulation like SWD Quik-Shield become more important." Jim Perkins President, SWD
Mesa, AZ (PRWEB) March 7, 2011
SWD Urethane announced the recent certification of Quik-Shield 106 and Quik-Shield 112 sprayfoam insulation products by the GREENGUARD Environmental Institute. Both sprayfoam insulation products received GREENGUARD'S Children & Schools certification.
The GREENGUARD Children & Schools Certification Program offers strict certification criteria for VOC's and indoor air quality. It is referenced by the Collaborative for High Performance Schools (CHPS) and the Leadership in Energy and Environmental Design (LEED) Building Rating System. Products certified to this standard are also suitable for use in environments where children and others work, play or reside.
Quik-Shield 106 becomes one of only two open cell sprayfoams to be certified by GREENGUARD. Quik-Shield 106 is one of the leading 1/2 lb sprayfoams available. It delivers an aged 1" r-value above 4, and is highly regarded because of it's low odor. Quik-Shield 106 is also ICC and CCMC approved.
Quik-Shield 112 joins 5 other closed cell sprayfoams to be certified by GREENGUARD. Quik-Shield 112 is the leading 2 lb. foam available. Quik-Shield 112 is ICC and CCMC approved, and may be applied to low temperature substrates. 112 is available in an extreme cold formula.
The GREENGUARD Environmental Institute aims to protect human health and improve indoor air quality by reducing people's exposure to chemicals and other pollutants. As an ISO-IEC Guide 65:1996 accredited, third-party organization, the GREENGUARD Environmental Institute certifies products and materials for low chemical emissions and provides a resource for choosing healthier products and materials for indoor environments. All certified products must meet stringent chemical emissions standards based on established criteria from key public health agencies. GREENGUARD Indoor Air Quality Certification is broadly recognized and accepted by sustainable building programs and building codes worldwide. For more information and a complete listing of certified products, visit http://www.greenguard.org
Quik-Shield 106 and 112 are available directly from SWD Urethane. Those interested in more information on the products can contact SWD sales at 800-828-1394 or sales(at)swdurethane(dot)com.
# # #