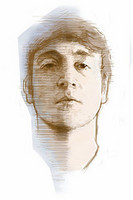 Lennon claimed life as a Beatle wasn't all that great
Tulsa, OK (PRWEB) March 9, 2011
A new article from This Land Press reveals intriguing details about the life of John Lennon through a letter Lennon purportedly penned to televangelist Oral Roberts.
In January of 1973, the televangelist Oral Roberts stood before an audience and declared he had received "one of the most unique letters" he'd ever received. The writing, he explained, was too difficult to read, so he had it typed up.
"Reverend Roberts," the note began. "This is ex-Beatle John Lennon."
Written in a stream-of-conscious style, the letter goes on to reveal several intriguing details about Lennon's life—details that had been curiously omitted when the first transcript of Lennon's letter appeared in a 1985 biography.
In "The Gospel of John: In Search of Lennon's Lost Letter to Oral Roberts," reporter Lindsey Neal uncovers several intriguing details that have never been published.
In it, we learn:
--Lennon claimed life as a Beatle wasn't "all that great"
--That he had a police record for writing forged checks
--That he prompted the break-up of The Beatles
-- That Lennon's marriage to Yoko Ono created a major barrier in his relationship with his son, and that Ono is "going crazy" over the disappearance of her daughter.
Perhaps even more curious than the letter's revelations is the fact that the original letter is now missing, questioning the very authenticity of the letter.
"If John Lennon indeed wrote the letter to Oral Roberts, then we're seeing a Lennon the world had never known before," says This Land editor Michael Mason. "As it stands, the surviving transcript remains an important document that likely chronicles the most vulnerable period of Lennon's life."
Read the entire article online at http://thislandpress.com.
# # #