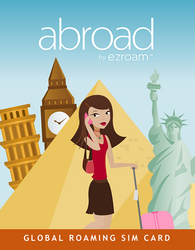 Oceanside, CA (PRWEB) March 7, 2011
These days it feels like the cost of travelling is rising by the minute, and frugal travelling is no longer just for the savings-extremist. Airline ticket price increases, airport security fees, and those ridiculous "convenience" and checked-baggage fees; there just doesn't seem to be an end to the list of companies trying to absorb money from travelers.
Much like airline operators, wireless phone service providers force customers to pay excessive roaming fees and surcharges when travelling internationally. A typical phone call can cost upwards of two dollars per minute and subscribers are often unaware of the charges until they return home to a $1000 phone bill.
A new service called Abroad promises to provide travelers with big savings, offering discounts of up to 90% on international roaming rates. The service utilizes structured roaming agreements with over 300 local cell phone networks around the world, essentially creating a single massive roaming network. Abroad subscribers are able to roam on any one of the 300 networks, in any of the 170 covered countries, while retaining the same phone number, account balance, and voicemail box. Additionally, because the Abroad service roams on multiple networks in a single country; subscribers are able to switch to the carrier which offers the best coverage in their area helping to ensure both call quality and reliability.
EZ Roam, the California based mobile services company that provides the service, offers a phone rental program ($19 flat-fee, for up to 3 months), or for customers who already own an unlocked Quad-Band GSM cell phone the Abroad SIM Card is available for purchase ($19). For travellers with longer itineraries, the company also offers long duration rentals and phone purchase options.
Further details about the company's products and services can be found at: http://www.ezroam.com
For additional information, please contact:
Connan Twomey
213-325-5030 Extn 242
ctwomey(at)ezroaminc(dot)com
# # #