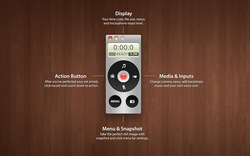 Customers want lossless recording quality, low processing time and the ability to record not only the iPhone Simulator but their full desktop. Today we are going to live up to their expectations.
Santa Barbara, CA (PRWEB) March 7, 2011
Sound Stage for Mac, a desktop application that makes it effortless to create high quality video demos of iPhone apps and Mac desktop apps, has released a new version. What sets Sound Stage apart is that it allows for image backdrops, soundtracks and voice overs to be added to any recording with little effort. The ethos of the product is simple. How many times have you purchased an app merely on its image and winding up not enjoying it? With the introduction of Sound Stage, New Leaders hopes to help curb "Whoops, I bought it!" syndrome that plagues many of our credit card statements. Sound Stage can also help developers provide complex support documentation, share iterative concepts and explain their product in a more clear and straightforward way.
The first version was released opening day of the Mac App Store in January. Since its release thousands of customers have downloaded the new app. "Since Sound Stage's launch we've had the opportunity to hear from hundreds of customers. Above all else they want lossless recording quality, low processing time and the ability to record not only the iPhone Simulator but their full desktop. Today Sound Stage 1.3 is going to live up to their expectations by introducing the newest version that incorporates these features." explained Kevin Milden, the co-founder of New Leaders.
Beyond the new high quality features and performance enhancements that customers want, New Leaders is also lowering the barrier to entry by bringing down the introductory price of Sound Stage 1.3 to $4.99. Existing customers can download the new version a no additional cost. "We are already underway on our next app to add to our lineup of Mac software products. While there are a number of screen casting recording utilities available for the Mac, we aim to make Sound Stage the go-to application for recording. To accomplish that New Leaders needs to bring down the price point as low as possible to encourage users to give it a try. Over the next few months New Leaders will introduce even more features that allow different types of recording." added the Sound Stage's creator Raffaello Colasante.
Sound Stage is available for download today for $4.99 USD at the Mac App Store. It will require the user to have Mac OS X 10.6 pre-installed with the Mac App Store. Developer tools and iOS SDK should also be installed to take advantage of iPhone App video recording.
For more information about Sound Stage please visit:
http://SoundStageApp.com or email Info(at)SoundStageApp(dot)com
Buy a copy from the Mac App Store at:
http://itunes.apple.com/us/app/sound-stage/id411392259?mt=12&ls=1
To see the types of demos which can be created with Sound Stage visit:
http://www.youtube.com/soundstageapp
About New Leaders
New Leaders is team of highly talented designers and developers working together to develop web sites, applications, and marketing campaigns for customers all over the world. New Leaders offices are located in both Santa Barbara and Truckee California.
###