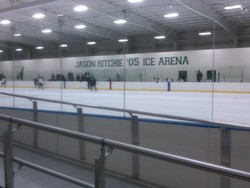 "This event reminds me that life is fragile, bad things happen to good people, and something good can come out of the bad."
Tallahassee, FL (PRWEB) March 5, 2011
Life is Energy – In Honor of Jason Ritchie
North Central Massachusetts honored Jason Ritchie, a young hockey athlete that died tragically in a 2009 auto accident, at the dedication at The Winchendon School ice arena, naming it the "Jason Ritchie '05 Ice Arena."
Jack Blair, said, "This event reminds me that life is fragile, bad things happen to good people, and something good can come out of the bad."
After graduating from The Winchendon School Jason went on to college and continued his interest in hockey. As his parents, Bob and Donna, and his brother Jon, dealt with their grief they also sought to find a way to honor Jason by helping other young men and women get a good education and learn to play hockey, especially those who otherwise would be unable to do so.
Their commitment resulted in the formation of The Ritchie Hockey Foundation, which will provide financial assistance to youngsters who love the sport, and need some help with the hefty costs of both an education and of playing hockey.
The Ritchie family returned to Winchendon a year ago to name the boys' home locker room in honor of their son. From that visit grew a bigger idea: why not name the entire ice arena for their son and create a vision for all who play hockey there that a young alumnus' interest in the sport combined with the love and forward thinking of his family, resulted in a partnership that will help hundreds of youngsters, in his name, as the years march by.
This large financial commitment on the part of the Ritchie's was celebrated along with the good that it will do when Craig Patrick, one of the coaches of the famous Olympic Miracle on Ice team (when the U.S. defeated the Russians for Olympic Gold), came to speak at the dedication. Patrick is a Hall of Famer and coached and managed many NHL teams in his career.
Motivational speaker and entertainer Paul Cardall came from Utah to join in the dedication and to provide encouragement and entertainment to those gathered to honor Jason.
The "sold out" event hosted visitors from around the country along with local members of the Winchendon's Board of Selectmen, the school's Board of Trustees, Representative Bastien, Senator Brewer, and so many others came to share in the celebration.
"Long after all of us have passed away the name of Jason Ritchie will stand as a daily reminder to those who pass through the front door of the ice arena that while life is fleeting, and often all too short, the impact a person can have on the future is unlimited. The Jason Ritchie '05 Ice Arena will stand as a beacon to the life of a wonderful young man and the magnificent heart of his family."
Jason's father, Bob Ritchie stressed, "Life is short and bad things do happen to good people, bit a short life can have an eternal message of faith and hope and be an inspiration to others. Bad things can be used to bring about an endless promise for the future when good people simply refuse to let fate vanquish them."
ABOUT JRHSF: The Jason Ritchie Hockey Scholarship Foundation http://www.ritchiehockeyfoundation.org/ was established by the Ritchie family in memory of Jason Ritchie who was tragically killed in a car accident in 2009. The Foundation's mission is to provide resources and mentoring to deserving youth who share in Jason's drive and dedication. Funded exclusively by individual and corporate donations as well as grant funding from other services, the Foundation focuses on helping children realize their dreams by providing them the tools needed to succeed. http://www.ritchiehockeyfoundation.org/howtogive.html
ABOUT WINCHENDON: The Winchendon School, a coeducational multicultural community, provides college-bound students of good character and promise with the essential study skills and learning strategies that propel each student to achieve academic success. Gifts given to The Winchendon School are tax deductable and may be earmarked to support a wide variety of areas, programs or initiatives. If you would like to participate in the "Challenge for the Second Century" or have questions on available ways to make a gift, please contact Patrick Tevlin, Director of Development at 978.297.1223 ext. 158 or ptevlin(at)winchendon(dot)org
# # #