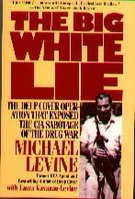 "The truth is that the only thing white about their lies is the thousands of tons of cocaine that have almost buried us because of their actions."
Stone Ridge, NY (PRWEB) March 6, 2011
When Bolivian president Evo Morales held up the book "La Guerra Falsa" (The Big White Lie) by Michael Levine for the photo that would rocket around the world, claiming that it was proof of DEA and CIA protecting the biggest drug traffickers in the world and using the drug war to manipulate, control and even overthrow governments, he was wrong about one thing: "The Big White Lie" does not blame DEA; it lays the blame exclusively on CIA.
For photo: *http://www.washingtonpost.com/wp-dyn/content/article/2011/03/03/AR2011030303976.html
English paraphrase of speech:
**http://narcosphere.narconews.com/notebook/bill-conroy/2011/03/bolivian-president-uses-former-dea-agent-s-book-send-message-world
***Spanish language articles paraphrasing the actual statement made by Morales: http://informe21.com/politica/evo-morales-ningun-militar-extranjero-armado-ni-dea-volveran-bolivia
& http://www.diariodominicano.com/n.php?id=73595&sec=internacional
The Big White Lie by Michael Levine and Laura Kavanau, published in 1993, is an insider's account of a deep cover sting operation (US v Roberto Suarez et al and Operation Hun - See "The Big White Lie, Thunder's Mouth Press, 1993) that was called the "greatest undercover sting operation in narcotics history" by Penthouse Magazine, (August 1992, by Jonathan Kandell). A covert operation that succeeded in penetrating to the top of the cocaine trafficking world at a time when the Bolivian Cartel run by Roberto Suarez was responsible for more than 90% of the cocaine in the world.
(Testimony of Felix Milian Rodriguez, convicted Medellin Cartel money-launderer before US Senate Subcommittee on Terrorism and International Communications, 1-26-87).
Based on secretly tape-recorded conversations and video-tapes, The Big White Lie is a non-fiction, fly-on-the-wall look at how an undercover team of DEA agents posing as an American Mafia family—with the secret aid of the then Bolivian government— succeeded in uncovering what would soon become La Corporacion – the General Motors of cocaine; the prime source of America's crack cocaine explosion, only to learn that the cartel leaders were CIA assets. Called a book that "reads like an edge of your seat thriller" by the NY Times (Treaster review 1/23/94) it is a blow-by-blow account of how the kind of CIA ineptitude, mismanagement and corruption that led to 9-11, turned the biggest victory of our War on Drugs into its biggest defeat. It is the true story behind the "Coca Revolution," the most violent revolution in that country's history.
From author's Introduction of The Big White Lie:
"In these pages I will lead you through the deep cover odyssey that I lived for six years. You will hear the words I heard, witness what I and others did, and learn the real reasons behind our cocaine and crack epidemic — the ones your elected representatives hid from you in secret sessions behind closed doors and a misuse of the secrecy laws that must have had our founding fathers twisting in their graves.
"I will give you a fly-on-the-wall look at how the CIA perverts the American justice system by protecting drug dealers and murderers from prosecution; at how even federal judges and prosecutors alleged to have violated narcotic laws were protected from investigation; at how a beautiful South American woman called 'the Queen of Cocaine,' by Pablo Escobar, responsible for shipping more cocaine into the United States than any one person I had ever known, was able to seduce the CIA into destroying her competitors, protecting her from prosecution, and paying her a small fortune in taxpayer dollars for her 'services'; at how the only ruling government of Bolivia that ever wanted to help DEA defeat their drug barons was paid for its faith in our sincerity with torture and death at the hands of CIA-sponsored paramilitary terrorists under the command of fugitive Nazi war criminals. And finally, you will realize, as I did, the ultimate betrayal of America; how, without the CIA's protection and support the resultant crack/cocaine epidemic might never have occurred.
"Without further ado, enter the inner sanctum of the biggest, whitest, deadliest lie of them all: the war on drugs."
All the assertions of this book as to CIA's role in protecting and aiding and abetting some of the world's biggest cocaine traffickers, in particular those in Bolivia, would later be corroborated by testimony of CIA Inspector General Fredrick Hitz before Congress, public statements made by top DEA officials, and the work of some of our countries best investigative journalists.
See: Consortium News
http://www.consortiumnews.com/2007/121007.html
Also see:
"CIA are drug smugglers" Robert Bonner, DEA Administrator, http://www.youtube.com/watch?v=5_UbAmRGSYw
See Frontline interview of Hitz:
http://www.pbs.org/wgbh/pages/frontline/shows/drugs/special/hitz.html
Baltimore Chronicle Article: "In 1998, CIA's Inspector General Frederick Hitz confirmed the earlier allegations of extensive cocaine trafficking by the Contras, including significant ties to Bolivia's traffickers. Hitz also cited a partially redacted document referring to a "religious" group cooperating with the Contra-cocaine trade." http://baltimorechronicle.com/2010/121710Parry.shtml
For history of CIA bungling and inability to handle and control criminal assets, see Crier Report:
http://www.youtube.com/watch?v=H45bbwhMhm8
For a Spanish language interview of Michael Levine about "La Guerra Falsa, see: http://tu.tv/videos/la-guerra-falsa
For additional information or author interviews contact
Sentac International Investigations
Email: Expert5353(at)gmail(dot)com
Expert53(at)aol(dot)com
http://www.expertwitnessradio.org
# # #