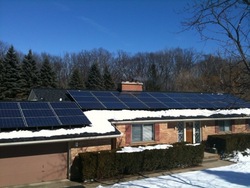 Ann Arbor, Michigan (PRWEB) March 7, 2011
The Broker of a local Ann Arbor real estate company, Jon Boyd, recently activated one of Ann Arbor's largest residential solar panel installations to generate power for his personal home.
Boyd, who has an electrical engineering degree from the University of Michigan, was involved in choosing the components and designing the system which was installed by Select Solar And Generator and partially funded by DTE, the local utility company.
"Buying solar is a lot like buying a home. You need to know what you are doing and you need to know who you are dealing with. If I had just believed what I read in the local publications I could have spent $20,000 more and not had as nice an installation," said Boyd. "My 10 years as a design engineer certainly helped me understand the concepts but I also spent about 6 hours a week over six months to become familiar with the current solar PV technology and products."
Boyd's system is located in Scio Township just West of Ann Arbor and consists of forty two 230 Watt panels and a large grid tie inverter.
Boyd, who's Ann Arbor real estate company, The home Buyer's Agent, only works for buyers, reported that total cost for the mounting, panels, inverter, and labor was roughly $42,000. He also installed a 50 year roof under the panels which cost another $8,000. After the system was operational he received a $23,184 check back from DTE to defray the costs and he will receive about $15,000 in tax credits over the next few years. The system will bring their electric bill down to almost nothing.
Boyd even created a blog site to share pictures, videos, his design process and solar experiences at: http://annarborsolar.org
"We were a little concerned dealing with the bureaucracy of DTE, especially when they seemed to be a little confused with some technical aspects of the design, but they did come through as promised and even had their contractor make a return trip to correct a minor wiring mistake in one of their meters. Overall we were quite happy with their participation and the whole process," Boyd concluded.
# # #