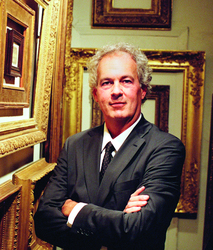 I am truly honored to be appointed to the Board and to be able to support the mission of the Smithsonian. - Eli Wilner, CEO, Eli Wilner & Company
New York, NY (PRWEB) March 7, 2011
The Board of Regents of the Smithsonian Institution has appointed Eli Wilner, CEO of Eli Wilner & Company, to the Board of the Trustees of the Archives of American Art. His term will be three-years.
About the Smithsonian Institution Archives of American Art:
Founded in Detroit in 1954 by Edgar P. Richardson, then Director of the Detroit Institute of Arts, and Lawrence A. Fleischman, a Detroit executive and active young collector, the initial goal of the Archives was to serve as microfilm repository of papers housed in other institutions. This mission expanded quickly to collecting and preserving original material and, in 1970, the Archives joined the Smithsonian Institution, sharing the Institution's mandate—the increase and diffusion of knowledge.
The Archives today, with over 16 million items, is the world's pre-eminent and most widely used research center dedicated to collecting, preserving, and providing access to primary sources that document the history of the visual arts in America.
More info at The Archives of American Art
The new Board includes:
Executive Committee
Suzanne D. Jaffe, Chair
Barbara Mathes, President
Arthur Cohen, Vice President
Lynn Dixon Johnston, Secretary
Barbara G. Fleischman
Frank Martucci
Janice C. Oresman, Members at Large
Warren Adelson
Ann E. Berman
Gerald E. Buck
Edward O. Cabot
Helen W. Drutt English
Ruth Feder
Martha J. Fleischman
Diane A. Fogg
Leslie K.S. Fogg
John K. Howat
Wendy Jeffers
Judith Jones
Gilbert H. Kinney
Nicholas Lowry
Ellen Phelan
Marla Prather
John R. Robinson
Rona Roob
Eli Wilner
About Eli Wilner & Company
Recognized as the foremost worldwide authority on antique frames, and founded in 1983, Eli Wilner & Company specializes in American and European frames from the 17th-through mid-20th centuries. Clients include fine art collectors, major art and historical institutions as well as The White House, where he has created 28 frames for its collection.
With an atelier composed of a team of thirty highly skilled artisans, including 15 frame conservators, and over 10,000 custom framing projects completed to date, Eli Wilner & Company takes pride in each project. Every frame is handcrafted to not only reflect the time in which the painting was created, but also to best reflect the framing choices known to be made by the artists themselves.
Eli Wilner & Company
Master Framers
1525 York Avenue, New York, NY 10028
212-744-6521
info(at)eliwilner(dot)com
http://www.eliwilner.com
# # #