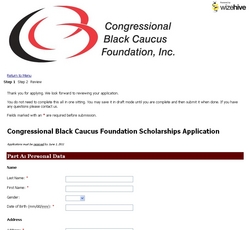 "We think the opportunities provided to young people through the CBC are wonderful and we are thrilled to be supporting their online scholarship application process." commented Michael Levinson, CEO of WizeHive."
Conshohocken, PA (PRWEB) March 7, 2011
The Congressional Black Caucus Foundation, Inc., a nonprofit, nonpartisan public policy, research and educational institute, aims to help improve the socioeconomic circumstances of African Americans and other underserved communities. Each year, CBCF undertakes significant public health, economic empowerment and scholarship programs that benefit thousands of people across the country.
With the help of WizeHive's Scholarship Management Software, CBCF has just opened its 2011 Scholarship applications for submission. WizeHive is excited to be helping such an amazing organization do great things.
"We think the opportunities provided to young people through the CBC are wonderful and we are thrilled to be supporting their online scholarship application process." commented Michael Levinson, CEO of WizeHive."
Scholarship opportunities include the CBC Spouses Education Scholarship, a national program that awards scholarships to academically talented and highly motivated students; The CBC Spouses Cheerios Brand Health Initiative scholarship, sponsored by General Milles, for those applicants preparing to pursue a degree in the fields of medicine, engineering, technology, nutrition, or other health-related studies; The CBC Spouses Heineken USA Performing Arts scholarship and the CBCF/Walmart Strive for Excellence Scholarship, for those who have demonstrated the potential to make the greatest impact on the local community following Walmart's philosophy of operating globally and giving back locally.
WizeHive was able to handle all of these applications from one consolidated form by providing a flexible online application form as well as powerful workflow technology on the back end to route applications to the applicable scholarships. In addition, WizeHive will be providing CBC analytical data to help review the applications. WizeHive also offers a flexible grant management system and online contest management software.
Scholarships are open now until mid to late April of 2011
# # #