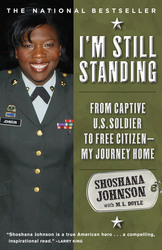 POW Johnson will appear at ChoiceCenter Leadership University on Tuesday, March 15, at 7 p.m.
Las Vegas, NV (PRWEB) March 7, 2011
Just four weeks into her first deployment in Iraq, Army Specialist Shoshana Johnson was ambushed, shot in both ankles, and captured by enemy soldiers. America's first black female Prisoner of War was held for 22 days before being freed by U.S. Marines in a Hollywood-style rescue mission. POW Johnson will now spend one very special night sharing her story at a lecture and book signing event at ChoiceCenter Leadership University, where she is a 2007 graduate.
"An Evening with American Hero and POW Shoshana Johnson" will be held on Tuesday, March 15, 2011, at 7 p.m. in Las Vegas at ChoiceCenter Leadership University, located at 9145 W Russell Road in the Desert Canyon Business Park. The event is free and open to the public.
POW Johnson's book "I'm Still Standing" is a best-seller, published in 2010 by Simon and Schuster. It recounts her journey from captive U.S. soldier to free citizen, and details each of the 22 days she was held in Iraq. A gripping story of survival, faith, intention, triumph and patriotism, books will be available to be purchased and autographed following Johnson's lecture.
Appointed by Congress to serve on the Advisory Committee on Minority Veterans, POW Johnson is an advocate for veteran care and inspects hospitals throughout the country for the government. She is also a military commentator who appears regularly on CNN, NPR, NBC and MSNBC, and was a frequent guest on Larry King Live.
POW Johnson is one of Glamour magazine's Women of the Year, and was nominated for an NAACP Image Award in March of this year for "I'm Still Standing," where her book competed against works by Nelson Mandella, Condoleezza Rice, Jay-Z and Ray Charles Robinson, Jr.
POW Johnson is now fulfilling her dream to become a chef and will graduate from culinary school in Texas in May. In August of 2007, Johnson flew to Las Vegas to attend ChoiceCenter's Personal Development & Leadership program, which she credits with inspiring her to achieve many of the successes she enjoys today.
At the March 15 event, POW Johnson will be available for media interviews. Inquiries should be directed to Corrine Clement at (702) 860-9647.
ChoiceCenter Leadership University, founded in 1998, is a leader in personal development and leadership education, as well as business and life coaching. Courses and coaching focus on developing an individual's Emotional Intelligence (EQ) to elevate their quality of life and reach their next level of success. The company is renowned for its Leadership Legacy program that pairs students with a personal coach for 100 days to create their dream life. ChoiceCenter is also the founder of Giver Game – a volunteer philanthropy project that is the Amazing Race version of charitable giving. http://www.choicecenter.com
###