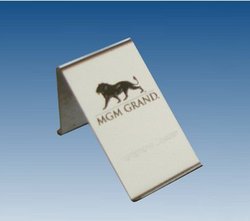 Your Customers will use their Smartphone Coasters for years to come ensuring your name is always in plain sight.
Del Mar, CA (PRWEB) March 7, 2011
Instead of the same old pens, coffee cups or calendars, Smartphone Coasters from newPCgadgets offers a unique and effective way for companies to get their name noticed. Best of all, the durable stainless steel construction ensures that company names or logos will be seen for many years to come.
Smartphone Coasters are polished stainless steel stands designed to hold all types of Smartphones at a comfortable and improved viewing angle. Their space-saving and stackable design makes them perfect for any business, educational or home environment.
As a promotional item, newPCgadgets designed Smartphone Coasters to meet the needs of a new generation of business. With over 200 million Smartphones currently in circulation, newPCgadgets recognized the opportunity for businesses to advertise in this high-tech medium.
Anyone who uses a Smartphone Coaster will immediately realize the many benefits including, fast access to incoming calls and texts, improved privacy, cuts down on misplaced phones and overall better performance. Once they use them, they quickly become a favorite.
With thousands already sold to satisfied consumers, newPCgadgets is now focusing on businesses who would like to be ahead of the curve when it comes to advertising.
Already large hotels like the MGM Grand have provided Smartphone Coasters to their guests and preferred customers. Other customers include real estate agents, insurance agents, restaurants, sports bars, banks, law offices, school fundraisers and dozens more.
Company name or logo can be engraved or stamped, depending on quantity, on the front stainless steel surface, ensuring the most prominent position. Minimum orders for custom logos start as low as 100 units with prices ranging from $3.49 to $5.39 each. Samples are available upon request.
If you have been searching for a creative way to get your name out there, then Smartphone Coasters have you covered. Visit newPCgadgets.com for additional details.
###