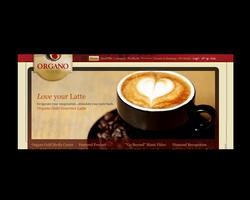 Freeport, NY (PRWEB) April 5, 2011
Organo Gold is able to fuse the great taste of premium coffee with the high potency of the ganoderma herb, making it no longer an oxymoron to say "healthy coffee." Since coffee is the second most consumed beverage on the planet, after water, it seemed only right to make it healthy. With that said, Organo Gold now brings coffee lovers a healthy addition to their favorite beverage with the overwhelming power of ganoderma – an ancient Chinese herb that has been used for more than 4,000 years to enhance wellness.
By infusing organic coffee beans and an ever expanding product line with the ganoderma Lucidum herb, coffee drinkers experience improved health without feeling the guilt of over indulgence. Organo Gold coffee crushes the stigma that too much coffee is harmful, as the 150 antioxidants in ganoderma will not only help to cleanse the body of toxins, but gives you the energy you get from regular coffee, without the crash. Other benefits include its natural ability to regulate the body's acidity level (PH balance), clears any blood circulation blockage and strengthen immunity.
In Cantonese, "Lingzhi" or "Reishi", is the name for one form of the mushroom Ganoderma Lucidum. It enjoys an honorable place in Asia, where it has been used as a medicinal mushroom in traditional Chinese medicine and is known as the "Miraculous King of Herbs". The processing plant for the Organo Gold coffee products, located in China, are manufactured with GMP Standards which are the highest worldwide.
Coffee lovers can now get the best of both worlds by enjoying the great taste of premium coffee with the added benefit of improved health; just one click away. Organo Gold distributes through http://www.Ljjava.organogold.com and boasts various flavors and products. Organo Gold also offers green tea & hot chocolate with the same health benefits as the coffee varieties.
For more information, visit http://www.Ljjava.organogold.com. For media inquiries, contact Lisan J. Simpson at (646) 820-7026 or Ljjava(dot)organogold(at)gmail(dot)com.
###