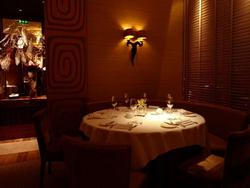 "I'm over the moon to sit at the top of the list again this year", comments Martin Wishart. "There are so many very good restaurants in the list that it is deeply satisfying to be amongst them and to be consistently highly rated by my customers."
(PRWeb UK) March 8, 2011
toptable reveals today their top 100 diner rated restaurants for the year up to February 2011. The rankings are based on the ratings of half a million diners who have booked and dined via toptable during this period creating the largest diner survey of its kind in the UK.
Martin Wishart in Edinburgh tops the list for the second time in three years followed closely by another Scottish restaurant, Piccolo Mondo in Glasgow. London restaurant stars Le Gavroche, Chez Bruce and take third, fourth and fifth place respectively.
"I'm over the moon to sit at the top of the list again this year," comments Martin Wishart. "There are so many very good restaurants in the list that it is deeply satisfying to be amongst them and to be consistently highly rated by my customers."
Culinary institution Le Gavroche ranked third overall, is the top London restaurant in the list and has achieved the highest ratings for service which is described by diners as 'impeccable', 'discreet and exceedingly efficient' and 'exceptional'.
Chef Michel Roux Jnr commented, "It is a real pleasure to see that Le Gavroche is rated so highly by so many diners. It is credit to the whole team who work hard to provide our customers the best possible dining experience."
The popular Italian restaurant Piccolo Mondo in Glasgow, positioned second in the rankings has also been voted the best Italian restaurant in the UK and one that offers great value for money.
Lucy Taylor, Head of Restaurant Relations comments, "toptable diners have spoken and the resulting list is very diverse including culinary superstars such as Alain Ducasse at The Dorchester and newer critically acclaimed restaurants such as Gauthier Soho and William Drabble at Seven Park Place. It is particularly refreshing to see some less well known restaurants such as The Case Restaurant with Rooms in Sudbury, The Black Horse Restaurant and Bar in Swadlingcote and local heroes such as Piccolo Mondo making it into the top 100. This reflects both the breadth of restaurants featured on toptable and our customers' passion and enthusiasm for dining out."
About toptable
Founded in 2000, toptable.com is a leading online restaurant booking service in the UK. toptable.com provides a free and easy-to-use service, allowing diners to browse and book at more than 3,000 restaurants across the United Kingdom. Nearly three million diners are seated at restaurants each year through reservations booked via toptable.com. toptable is owned and operated by OpenTable, Inc.
OpenTable, OpenTable.com, OpenTable logos, toptable, Spotlight and other service names are the trademarks of OpenTable, Inc. and/or its affiliates.
For further information, please contact:
Ros Choate, Head of PR - toptable
t: 07889 232 970/ 020 3311 2274
twitter:@toptable_ros
http://press.toptable.com
# # #