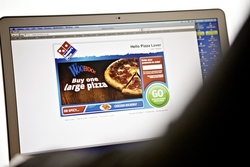 (PRWeb UK) March 8, 2011
Domino's, the local pizza delivery expert, has made ordering a pizza online even quicker and easier by linking up with PayPal.
Following customer feedback, Domino's has launched PayPal as its newest payment method for pizza. Customers in the UK simply need to log in to their PayPal account once they've placed their pizza order, enabling them to pay just by entering their email address and password.
PayPal is free to use on all Domino's orders and is a great way for people to buy pizza for friends and family too – perfect if you've mouths to feed who are away at university or even if you just fancy treating someone to dinner.
Simon Wallis, sales and marketing director for Domino's, said: "Online orders account for an increasingly large proportion of our sales and as part of this, we are continually looking for ways to improve the process and make it even more user-friendly. Our customers and Facebook fans told us they wanted an easier way to pay – we listened to them and we're now pleased to introduce PayPal, which is fast, safe and secure. It's great to be able to offer our customers the option of using PayPal to pay for pizza in just a couple of clicks!"
Cameron McLean, general manager, merchant services at PayPal, said: "We welcome Domino's on board as our latest high street partner and one of the first pizza delivery companies to join us. This innovative partnership is a natural step for both companies, given Domino's phenomenal growth in online orders and PayPal's extensive experience with large retailers."
Domino's link up with PayPal will be communicated to pizza lovers and PayPal users through a range of digital platforms including social media, email and online advertisements.
Grab a slice of the action – order and pay online at http://www.dominos.co.uk in just a matter of clicks.
Notes for editors:
PayPal is available for Domino's customers in the UK to use online immediately, with imminent launch planned for Domino's iPhone app.
Domino's Pizza UK & IRL plc is the leading player in the fast-growing pizza delivery market and holds the exclusive master franchise to own, operate and franchise Domino's Pizza stores in the UK and the Republic of Ireland. The first UK store opened in Luton in 1985 and the first Irish store opened in 1991.
As at 26 December 2010, there were 665 stores in the UK and the Republic of Ireland. Of these, 527 stores are in England, 47 are in Scotland, 26 are in Wales, 15 are in Northern Ireland, one is on the Isle of Man, 48 are in the Republic of Ireland and one is a mobile unit.
Founded in 1960, Domino's Pizza is one of the world's leading pizza delivery brands. Through its primarily franchised system, Domino's Pizza operates a global network of more than 9,000 Domino's Pizza stores in over 65 countries. Domino's Pizza has a singular focus – the home delivery of pizza, freshly made to order with high quality ingredients.
Customers in the UK can order online at http://www.dominos.co.uk and customers in the Republic of Ireland can order online at http://www.dominos.ie. In addition, iPhone customers can order by downloading the free Domino's app.
About PayPal
PayPal is the faster, safer way to pay and get paid online. The service allows members to send money without sharing financial information, with the flexibility to pay using their account balances, bank accounts or credit cards. With more than 94 million active accounts in 190 markets and 24 currencies around the world, PayPal enables global ecommerce.
PayPal Europe S.àr.l. et Cie S.C.A. is a Luxembourg-based limited liability partnership, which is regulated by the Commission de Surveillance du Secteur Financier ('CSSF') in Luxembourg. PayPal Inc is the ultimate parent of PayPal Europe S.àr.l. et Cie S.C.A. and is 100% owned by eBay Inc. PayPal Inc was set up in the US in December 1998 and acquired by eBay Inc in 2002.
More information about the company can be found at http://www.paypal.co.uk or http://www.paypal.co.uk/press
For more information, please contact:
The Domino's Pizza Press Office
Domino's Pizza Group Ltd
Tel: 01908 580654
E: pr(at)dominos.co(dot)uk
Ref: DPGL/CM/387
###