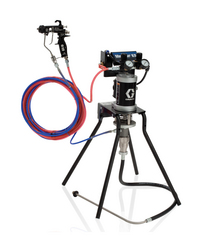 "Our customers really like this product because it uses less solvent to flush, so it saves them money."
Minneapolis, MN (PRWEB) March 9, 2011
Graco Introduces a new low profile, efficient spray package.
Graco's Merkur ES is an efficient air-assist and airless spray package that uses 45% less material to fill the system than leading competitors. It delivers a superior spray finish, and reduces air usage and pulsation.
The proven reliable air motor and pump lower, available in plated or stainless steel, makes the pump last longer resulting in less downtime. The Merkur ES system requires less than 1 minute to flush, reducing material and solvent usage.
"Our customers really like this product", said Wendy Hartley, Graco Product Marketing Manager, "It uses less solvent to flush, so it saves them money."
Designed for wood and general metal finishing applications, the low profile of this spray package is great for smaller finishing jobs and makes it easy to transport with its integrated carrying handle. The Merkur ES also converts easily from stand mount to wall mount.
When used with the G15 or G40 Spray Gun, the Merkur ES spray package delivers superior spray performance.
About Graco:
Graco Inc. supplies technology and expertise for the management of fluids in both industrial and commercial applications. It designs, manufactures and markets systems and equipment to move, measure, control, dispense and spray fluid materials. A recognized leader in its specialties, Minneapolis-based Graco serves customers around the world in the manufacturing, processing, automotive, construction and maintenance industries. For additional information about Graco Inc., please visit us at http://www.graco.com.
###