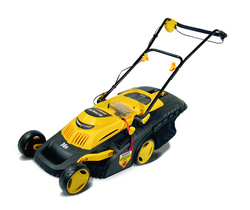 "People will be astonished by how light and powerful the battery is" says President Allan Hechtman. "When compared to other rechargeable mowers, our entire mower weighs less than their battery alone"
Carson, CA (PRWEB) March 8, 2011
Emission Free and Ultralite™ are the key words that set the New Lithium Powered Recharge Mower® apart from anything else on the market.
Protecting our environment has us all looking for alternatives to gas and oil powered lawn mowers that produce outrageous amounts of emissions and other nasty pollutants. Current rechargeable mowers use extremely heavy lead acid batteries and can weigh as much as some users. In fact, trying to push these units, even up small hills, can be exhausting.
The new Ultralite™ Lithium Powered Recharge Mower® is here to change the landscape.
The new Lithium Powered Recharge Mower® is so lightweight compared to current lead acid and gas mowers, that we call it Ultralite™. At only 35 lbs (16kgs.) the Lithium Powered Recharge Mower® (Model PMLI-14) is virtually effortless to use.
The Ultralite™ Lithium Powered Recharge Mower® has a fully moulded body that will not rust or dent and provides a 15" cutting path. The cutting height is easily adjusted to 6 increments using only 1 handle. The Ultralite™ design, allows the unit to be easily moved even into tight spaces. Since the Lithium Powered Recharge Mower® is battery operated; there is NO gas, NO oil and NO fumes. Simply plug the battery pack into the Energy Star rated Smart Charger and in only a few hours you're ready to go again.
The Ultralite™ Lithium Powered Recharge Mower® features:

Rapid Charging through the Energy Star Rated Smart Charger.
Ultralite™ but POWERFUL Lithium Battery weighs under 4 lbs. (1.8kg.).
Lithium provides more than 3 times the charge cycles versus other batteries.
Power indicator panel is built into the battery and easily accessed.
6 selectable cutting height adjustments using only 1 handle.
15 inch wide cutting path with dual purpose blade.
Select your choice of either Rear Bagging or Mulching.. both options included.
Handle easily adjusts to work best with the operator's height.
Sets-up in Seconds, No Tools Required.
The Ultralite™ Lithium Powered Recharge Mower® is available through the company website at http://www.RechargeMower.com and coming soon to a host of leading online retailers including:
Amazon.com GreenGardenTools.com HomeDepot.com
Menard.com PeoplePoweredMachines.com Sears.com
Walmart.ca Walmart.com and more to come!
Recharge Mower® … A greener lawn. A greener planet™.
Recharge Mower® is a Registered Trademark of Driven By Solar Inc. 905-997-9300
###