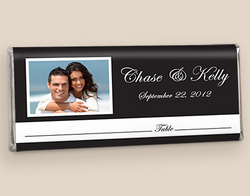 If there is one lesson that was strengthened by the recent economic recession, it's you must change to grow, and we live that lesson daily
Fairfield, OH (PRWEB) March 9, 2011
Internet sales for 2010 were at a year-end high for wrappedhersheys.com, the online home of Carson Wrapped Hershey's Chocolate, the world's premiere custom-wrapped confectionary supplier.
Several factors contributed to the company's online success in 2010, including increased product offerings, an aggressive Internet marketing campaign and ongoing enhancements to the Carson website.
With the ever-changing business landscape of the Internet, Carson President of Marketing Sharon Frederick said the company's e-commerce strategy will remain a work in progress to ensure their reputation for providing top quality customer service stays intact.
"We still view our site as an evolution, just as we view our business overall," Frederick said. "If there is one lesson that was strengthened by the recent economic recession, it's you must change to grow, and we live that lesson daily."
Identifying the consumer shift toward e-commerce transactions early in the process and promptly modifying the company's business strategy in response has reaped enormous benefits for the company. Evidence of this can be seen in the number of orders Carson now receives online.
Just five years ago, online sales accounted for less than 30 percent of Carson's total order volume. In 2010, sales through wrappedhersheys.com represented more than 84 percent of the company's overall order volume.
"Our website has allowed us to better focus on our customers and enhance their overall experience with us. We pride ourselves on providing the utmost in customer service," Frederick added. "Our website is not only our best sales tool; it allows communication with our customers 24 hours a day, 7 days a week. We have created entirely new, targeted product lines simply because we have such strong customer loyalty and communications."
About Carson's:
Carson Wrapped Hershey's® has sold over 75 million Hershey's chocolate bars and personalized candy since its founding in 1993.
The company was started by Edward Carson, who was looking for a creative way to celebrate the birth of his granddaughter, Elise. Instead of passing out cigars, he created pink candy wrappers to put around Hershey's chocolate bars. It proclaimed, "HERESHEIS®," in large type. Elise's name and weight appeared in small print on the front. Other vital statistics, such as the date, time of arrival and her parents' names, were included on the back.
Carson's product line has continued to expand, offering signature personalized candy bars and favors for all occasions; including birth, wedding, birthdays, anniversaries, religious events, corporate promotions and more. Carson also has its own graphic design team that can help customers create unique wrappers that are limited only by their own imagination.
Carson wrappedhersheys.com is licensed by Hershey® Chocolate and Confectionary Corporation, and is a member of various trade organizations. Carson employs over 20 full-time team members and several part-time members at their facility just north of Cincinnati, Ohio.
###