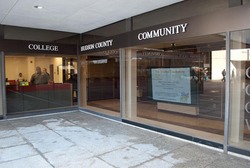 We are very pleased with Gallery's eco-friendly, scalable and easy-to-use functions
South Hackensack, NJ (PRWEB) March 8, 2011
Hudson County Community College recently held the official opening and ribbon-cutting ceremony for its new 1,900-square-foot Welcome Center, which is adjacent to the Journal Square PATH Transit Station in Jersey City, NJ. The event was attended by College and government dignitaries including U.S. Senator Robert Menendez (who delivered the keynote remarks), Hudson County Executive Thomas A. DeGise, and HCCC President Dr. Glen Gabert. Comments focused on the College's contribution to the revitalization of the Journal Square area.
Students and visitors to the HCCC Welcome Center - and to the PATH Station - are immediately greeted by the Welcome Center's Gallery™ Digital Signage system, which is designed to showcase various HCCC programs available to the local community, as well as classes, events and registration information. The Gallery™ systems were also installed in the College's Student Lounge, Enrollment Services, the Office of Student Financial Assistance and the Advisement/Counseling offices.
"We are very pleased with Gallery's eco-friendly, scalable and easy-to-use functions," commented Vincent Zicolello, HCCC's Chief Information Officer. He also noted Gallery's price point was very attractive.
Bill Kurtzer, TSG Communications President, stated: "We are proud and honored that our Gallery™ digital signage will be located throughout multiple locations on campus and will help present all that HCCC offers to students and the Jersey City community."
About Gallery: Designed and Engineered by TSG Communications, the Gallery Digital Signage Solution offers exclusive media players, cost-effective custom design, hardware and platform acquisition and installation, content design and implementation, web/media uploads and scheduling flexibility and comprehensive technical support.
For information contact: Bernie Feuer, Video Marketing Systems, (201) 343-9800
VMS is a northern New Jersey high-tech media design and installation company, a division of TSG Communications of South Hackensack.
Jennifer Christopher
Director of Communications
Hudson County Community College
26 Journal Square, 14th Floor
Jersey City, NJ 07306
(201) 360-4061
(201) 653-0607
jchristopher(at)hccc(dot)edu
###