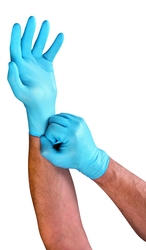 We created Touch N Tuff 92-616 to offer safety professionals an even higher quality exam glove and to increase worker confidence in various industries.
Red Bank, NJ (PRWEB) March 15, 2011
Ansell today announced the launch of its Touch N Tuff® 92-616, a 100 percent nitrile, medical exam grade glove that offers high level puncture resistance, superior fingertip sensitivity and exceptional durability. The green friendly gloves are available in a redesigned 150-pack, reducing packaging waste and thereby reducing the corresponding impact on the environment.
"We created Touch N Tuff 92-616 to offer safety professionals an even higher quality exam glove and to increase worker confidence in various industries," said Bill Bennett, Marketing Manager – Americas Region. "We also increased the number of gloves in each pack from 100 to 150 to reduce packaging waste, increase efficiency and improve productivity."
Touch N Tuff® 92-616 gloves were designed for increased hand protection. Nitrile gloves offer three times the puncture resistance of comparable latex or vinyl gloves. The Touch N Tuff 92-616 is ideal for a variety of applications including laboratory testing, lab analysis and technical work, preparing pharmaceutical products and dairy and meat processing. Touch N Tuff gloves also comply with FDA food handling standards.
The new Touch N Tuff® 92-616 packaging also receives "green" accolades for its efficiency and reduced impact on the environment. With more gloves within the same size packaging as the 100-count pack, transportation needs decrease along with associated storage costs. Additionally, more gloves in one box means less frequent stock-outs, which saves time and improves productivity. Glove packaging is also produced from recycled fiberboard and corrugated packaging.
"It's estimated that the increased quantity from 100 gloves to 150 gloves per case will result in a one-third reduction in cases handled, which reduces costs from warehouse to truck to customer," Bennett said.
The glove is available in a broad range of sizes (XS-XL) to provide options for improved fit for a variety of hand sizes.
About Ansell
For many decades, Ansell has innovated and led the hand protection and safety apparel industry. The company offers comprehensive business solutions to help manufacturers meet and exceed PPE standards. With its regional U.S. headquarters in Red Bank, N.J. and operations in Canada, Latin America, Europe, Asia and Australia, Ansell manufactures and markets six core occupational safety brands – HyFlex, PowerFlex, Vantage, Sol-Vex, AlphaTec and Touch N Tuff gloves. Ansell serves a wide range of industries, including chemical manufacturing and refining, automotive, food processing, general industrial, pharmaceutical, pulp and paper, construction, white goods, semiconductor and electronics manufacturing and primary metals.
Ansell is also a recipient of the Frost & Sullivan Award, a national accolade recognizing the company's continued commitment to the safety industry.
For more information about Ansell's Touch N Tuff gloves or other protective gloves, apparel and safety solutions, visit http://www.ansellpro.com or call 800.800.0444.
# # #