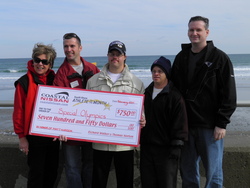 Norwell, MA (PRWEB) March 9, 2011
Coastal Nissan, a Boston area Nissan dealer, announces their successful participation in the 2011 Passion Plunge to benefit Special Olympics Massachusetts (SOMA) on February 26, 2011. The auto dealership was able to present SOMA with a $750 donation at the event on behalf of Matt Kardok, the February winner of the dealership's Athlete of the Month award and a Special Olympian.
Each month, the Coastal Nissan car dealership accepts nominations from eleven local towns (Abington, Braintree, Cohasset, Hanover, Hingham, Hull, Marshfield, Norwell, Rockland, Scituate, and Weymouth) on the Massachusetts South Shore for exceptional high school athletes, summer league participants, and Special Olympians. $750 is donated on the winner's behalf to their local sports program to help develop and support local athletes; the winner also receives recognition on the Coastal Nissan car dealership website.
The 2011 Passion Plunge was held February 26, 2011, on both the Revere and Nantasket Beaches in Massachusetts. Plungers were asked to register in advance and raise a minimum of $250. On the day of the plunge, Plungers were invited to spend time in the main tent to keep warm or enjoy the Massachusetts beach. After taking a dip into the frigid water, Plungers dried off and warmed up with music, food, fun, and prizes.
The Passion Plunge was established in 1999 as a fundraiser for Special Olympics Massachusetts. So far, those participating in the Plunge have been able to raise over $2.3 million for the athletes of Special Olympics Massachusetts. In 2011 alone, over $275,000 was donated.
Special Olympics Massachusetts provides year-round sports training and athletic competition for individuals with intellectual disabilities free of any charge. SOMA has over 11,000 volunteers and provides 121 organized yearly competitions for over 11,000 children and adults.
Those interested in the South Shore Athlete of the Month program from the Coastal Nissan auto dealership can find more information at their Boston Nissan website. Information about the Passion Plunge and Special Olympics Massachusetts can be found on their website, http://www.passionplunge.org. Coastal Nissan's website was developed by DealerOn, the leading car dealer website company.
# # #