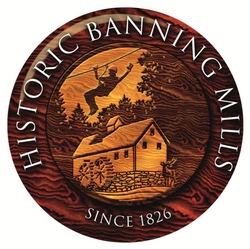 Whitesburg, GA (PRWEB) March 9, 2011
With gas prices continuing to rise to record levels, families who may have been planning or who have yet to plan their spring break vacation are likely reconsidering a distant destination. For those eager to enjoy family fun but without the hefty price tag of multiple tanks of gas or expensive airline tickets, consider Historic Banning Mills in Whitesburg, GA: a close-to-home destination with a far-away feel.
Nestled within 1,200 preserved acres and with a myriad of activities for every family member to enjoy, Historic Banning Mills is most noted for its unique eco zipline canopy tour, which is the largest, continuous course known in the world. The canopy tours combine a bird's eye view of the historic Snake Creek Gorge and education about the eco system, along with an adrenaline-pumping adventure.
There are different tours to choose from and skill levels used vary from basic to challenging. The forest tour, situated in an old growth hardwood forest, can accommodate those weighing at least 50 pounds. Each additional tour is in sequence and, as a guest continues on, the tours become more extreme. Historic Banning Mills also offers other adventures: horseback riding, extensive hiking trails, kayaking, tennis and basketball courts, miniature golf and bird of prey shows, as well as an aerial challenge course.
After the fun, there's time to relax at the day spa or just sit on the multiple porches, all with dramatic views of the breathtaking Snake Creek Gorge.
Accommodations vary from full-size cabins to creekside Jacuzzi rooms to economy-style rooms. A full breakfast is included in most room rates.
For information, visit http://www.historicbanningmills.com or call 1-866-447-8688.
About Historic Banning Mills
The Lodges at Historic Banning Mills is a 501 (c) 3 Conservation Center resting among 1,000 beautifully preserved wooded acres overlooking the scenic and historic Snake Creek Gorge in Whitesburg, GA. Offering thrill seekers, nature enthusiasts, couples and groups of all sizes an experience of a lifetime through its unmatched zip line and eco canopy tours, Banning Mills boasts year-round outdoor adventure in addition to a scenic environment perfect for romantic getaways, family outings, church retreats and other group events.
###