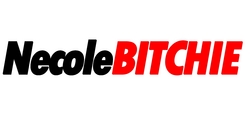 New York, NY (PRWEB) March 8, 2011
Necole Bitchie, founder of one of the leading entertainment blogs on the web for the multi-cultural audience, NecoleBitchie.com, is featured in a 2-page spread in the March 2011 issue of Ebony Magazine with Oscar-winning actress, Halle Berry as their cover star. In this issue, Necole Bitchie discusses her journey from losing both parents after college, job loss and homelessness, to becoming the blog superstar she is today.
Following the enormous response from the Ebony Magazine article, Necole was personally requested by the Tom Joyner Morning show, to appear on their daily segment with Jacque Reid, titled "Her Story." The two radio hosts spoke to Necole on her life story, how she grew her site to the force it is today three years after its December 2007 launch, her positive attitude, the business of blogging, and what's next for the Necole Bitchie brand.
Read Necole Bitchie's feature in Ebony Magazine here!
Listen to Necole Bitchie's interview on the Tom Joyner Morning Show here!
In addition to expanding NecoleBitchie.com, the popular blogger and quintessential businesswoman, is busy focusing on her newest venture, Bitchie Life (http://www.BitchieLife.com), the lifestyle extension of NecoleBitchie.com, which features articles on relationships, beauty, fashion, health and celebrity Q&A's, as well as her upcoming product line Born Bitchie, launching in April 2011.
With over 1.1 unique visitors, 3.78 million overall visitors and over 12 million page views per month and a rapidly growing social media presence of over 200,000 Twitter followers and 36,000 Facebook fans, NecoleBitchie.com is soon becoming the #1 go-to-source for the latest in celebrity news, fashion, beauty and the entertainment lifestyle for the multi-cultural reader.
ABOUT NECOLE BITCHIE:
"There was a lack of jobs in the industry, so I created my own. "- Necole
Trendsetting, Stylish & Influencer are just a few words used to describe the average reader of NecoleBitchie.com. Since its inception in December 2007, NecoleBitchie.com has quickly become one of the fastest growing and most trusted voices in entertainment news and celebrity gossip. Its editorial content is supported by resident personality Necole Bitchie who personifies the "every-woman" image while entertaining, inspiring and giving her readers a birds-eye view of the lives of some of the nation's hottest urban celebrities. NecoleBitchie.com has been referenced by top entertainment sites such as The Huffington Post, CNN, The Boston Globe, VH1, BET, Best Week Ever, XXL, Essence, Vibe and Honey Magazine as well as some of the top Urban Radio personalities in the country. Averaging over 12 million page views a month, the site is currently rated in the Top 10 Urban Blogs on the internet by Electronic Villager blog rankings. The personality behind the brand, Necole Bitchie was voted Top 100 Influential People In Hip Hop, listed as Ebony Magazine's Power 100 & Black Web 2.0's Top 100 Influential Black Women On Twitter and the Judges Choices for Best Gossip Blog for 2010 Black Weblog Awards.
###