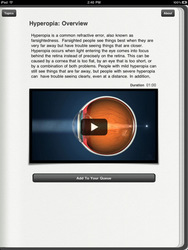 "We are very excited to be releasing our first iPad apps," said Jeff Peres, president and CEO of Eyemaginations.
Baltimore, MD (PRWEB) March 9, 2011
Eyemaginations is pleased to announce the launch of a series of new LUMA Eye Care Apps for iPad. With easy-to-understand videos, vision simulations, and closed captions, the LUMA Apps help eye care professionals explain eye conditions and treatments to patients within the office.
Offering the most innovative form of patient education and marketing software available, Eyemaginations has allowed doctors to present complex information to their patients in an engaging, easy-to-understand manner over the last ten years. From the waiting room to the exam room, it is designed to help patients visualize doctors' explanations and better understand treatment options.
The LUMA Eye Care Apps were designed to help doctors meet the same level of innovation. All six apps are perfect in the reception area to engage and educate waiting patients via iPad - a growing and overwhelming preference among US healthcare professionals.
"We are very excited to be releasing our first iPad apps," said Jeff Peres, president and CEO of Eyemaginations. "We are convinced that patients will continue to access medical information from a variety of mobile platforms. At Eyemaginations, we are committed to delivering a portfolio of solutions. The iPad apps represent the next step along this continuum, and we expect more to come in the subsequent months and years."
Dr. Darwin J. Liao of Seattle Eye M.D.S. in Seattle, Washington remarked, "LUMA iPad apps are an exciting addition to the Eyemaginations product family and will allow further mobility and ease of use in delivering high-quality, on-demand patient education utilizing tablet computing in healthcare."
The LUMA Eye Care Apps are now available for download in iTunes. They are free to all Eyemaginations LUMA clients and as a free demo for all others. The company is committed to releasing comparable apps in its other medical verticals within the next few months.
About Eyemaginations
Eyemaginations, Inc. is a health care media company focused on solutions that support professionals, patients and corporations in communicating and understanding complex topics. The company's in-depth experience with animation, design and software has enabled Eyemaginations to create integrated systems that provide clear and concise education solutions. Eyemaginations has a portfolio of products that are focused on eye care, ENT, audiology and facial aesthetics. The company has offices in the United States and Europe. Eyemaginations may be reached by phone at 1-877-321-5481, email at info@eyemaginations.com or online at http://www.eyemaginations.com.
###