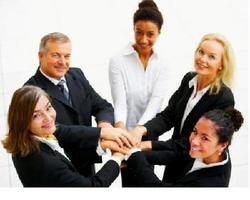 We are very excited to continue to innovate, automate and simplify the onboarding process. This latest update provides greater client customization and branding… through surveys and automated email reminders that make the process easier to manage
Columbus, OH (PRWEB) March 30, 2011
Connect the Dots Consulting, a leading provider of onboarding solutions, today announced the release of an updated version of its web-based automated onboarding solution, Building Connections® .
Research continues to validate that organizations invested in structured and consistent onboarding programs have employees who are significantly more engaged. Employees who are more engaged, deliver quicker to the organization's bottom line. Our onboarding solutions have always targeted the engagement link to onboarding and yet we are always striving to go to the next level. We listen to our clients as we continue to refine our onboarding solutions and clients told us that they want:
▪ A streamlined, straight-forward tool to support the onboarding experience for new hires & internal promotions.
▪ A consistent process that can be customized based on the business unit, the function, and the individual.
▪ A system that provides each person with a role in the onboarding process ( i.e. HR partners, Hiring Managers and New Associates) a tool to help them manage their points of involvement.
So, the latest version of Building Connections® was created to meet these needs.
Highlights of the new release include:

Branded landing page that new hires can access prior to start date
Surveys to track progress and measure impact
Email reminders to hiring managers, new hires and HR partners
Role specific dashboards to view and manage the onboarding process
Connect the Dots Consulting clients such as Tween Brands, Greif Inc. and TJX Companies have partnered with Connect the Dots to customize the new technology to meet their unique culture and onboarding objectives.
About Connect the Dots Consulting
Connect the Dots is a management consulting firm that specializes in onboarding, leadership coaching and team dynamics. Connect the Dots works with both human resources and line leaders to assess onboarding and development needs against business objectives and create solutions to address the gaps. To learn more about our solutions and services, call 1-877-793-8805 or visit http://www.connectthedotsconsulting.com.
Connect The Dots Consulting Partners: Brenda Hampel, Erika Lamont authors
###