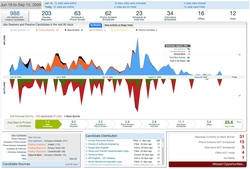 Now, we're giving corporate recruiters the ability to easily analyze the performance of their processes so they can be more strategic.
San Francisco, CA (PRWEB) March 8, 2011
Newton Software, Inc., the developers of smart, corporate applicant tracking software, just unveiled another key feature aimed at helping organizations to easily measure their corporate recruiting performance.
Newton is an intuitive, web-based, corporate applicant tracking platform. The product is designed to organize and simplify recruiting programs through the use of modern web 2.0 tools; making it easier for everyone to collaborate in the recruiting process.
Previously, Newton users were able to examine recruiting metrics through a real-time analytics dashboard. Now, in addition to the live metrics, Newton's custom reporting engine allows users to build, save and share customized reports comprised of any piece of data collected during the recruiting process. Users can generate reports on candidate pipelines, user activity, requisitions, job posting performance, interview statistics, hires and more. The new reporting feature even empowers users to save their customized reports and run them anytime in the future in only a matter of seconds.
The reports are easily built with Newton's drag and drop interface and exported to auto-formatted spreadsheets that are production quality. And, processing large amounts of data will not cause latency for users because the reports are generated from a reports-specific database with dedicated servers.
"From the beginning, we've focused on two key areas: one, designing applicant tracking software that's intuitive for everyone in an organization to use; and two, creating a platform that drives the 'yes' and 'no' decisions integral to hiring," said Joel Passen, Newton's Head of Marketing. "Thoughtfully designed software ensures high user adoption, and when you have lots of users creating data, you also have many metrics you need to measure. Now, we're giving corporate recruiters the ability to easily analyze the performance of their processes so they can be more strategic."
2011 will continue to be a busy year for Newton Software. Newton's custom reporting engine is one of several features that the San Francisco based company will make available to customers this year. Passen explains that the company is continually evolving Newton to meet the needs of the marketplace. "We grew the business over 1000% last year and now we have more resources than ever to dedicate towards evolving the recruiting software platform that our users love."
About Newton Software:
Newton Software, Inc. is a San Francisco-based software company founded in January of 2009. Newton delivers an intuitive and affordable applicant tracking solution for creating, managing and improving corporate recruiting programs with no hardware to buy or software to license. Newton manages the recruiting process for over 150 organizations in the US and UK. For more information, please visit the Newton Software website or contact us directly.
Contact:
Newton, Inc.
415-593-1192
newtonsoftware.com
###