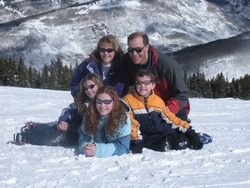 Nearly three quarters of members highlighted the variety of destinations as a key reason for joining
Newton, MA (PRWEB) March 8, 2011
SherpaReport, the leading website for information about destination clubs, today announced the release of a survey of site members in which they identify the key factors in choosing their destination club. Of the nearly 300 completed surveys, respondents represented members of ten different destination clubs. This survey is the first of its kind.
SherpaReport asked people who had joined a destination club, "which factors made you choose that destination club?" Respondents were able to list as many reasons as they liked, and on average these members provided three main reasons.
The most popular answer was the variety of destinations offered by the destination club. Nearly three quarters – 74% - of respondents gave this response. One of the core value propositions of destination clubs is that they provide access to multiple luxury vacation homes around the world. They are also an alternative to owning a second home. Therefore, members selected clubs largely based on where they live, where they like to travel and what they perceive as being a top vacation destination.
Nearly 50 percent of respondents said the size of the club was an important factor in their decision making process. Members who had joined both large and small clubs named this as a top issue in selecting their club. For some, the intimate, boutique nature of a smaller club is appealing. For others, the large breadth of destinations offered by a bigger club is more attractive.
Almost 70 percent of respondents identified price and value as key considerations. Members enjoy the five-star levels of services and amenities that their clubs provide, but during these economic times the affluent membership is clearly still very focused on receiving good value for their money.
The services offered by the clubs are another influential factor with 44% of respondents highlighting this feature. All the clubs provide pre-trip planning, on site concierges and such popular services as pre-arrival grocery stocking.
Most of the destination clubs say that referrals from other members are an important source for new members. In this survey having a family or friend as a member was mentioned by 21% of the respondents. So while it has an effect for some new members the main reasons for joining are the destinations, value, size, structure and services that the club offers.
"Destination clubs are an alternative to villa rentals, five star hotels or buying your own second home," said Nick Copley, President of SherpaReport, "so in a way it's no surprise that the old real estate adage of location, location, location still holds true. Nearly three quarters of members highlighted the variety of destinations as a key reason for joining."
The full results are included in the attached table.
About SherpaReport
SherpaReport educates consumers with its in depth coverage, reports and directories on luxury destination clubs, private residence clubs and fractional property markets. The website provides news, information and analysis to help guide people with their shared luxury property purchasing decisions. SherpaReport.com's flagship publication, Destination Clubs: A Guide for Prospective Members, is an in-depth annual report that features an overview of destination clubs, comparisons of the world's most popular clubs, industry trends, and a checklist of questions potential members should ask before joining. http://www.sherpareport.com.
###