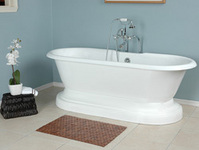 "We are extremely excited to highlight this new Bella Casa line of quality faucets and fixtures," declared Dawn Bobeck, VP of Sales & Marketing.
Mountain Top, PA (PRWEB) March 8, 2011
Bella Casa, a functional yet beautiful line of fine quality bathtubs is now adding a full line of British Telephone faucets and fixtures which complements its main line of pedestal and clawfoot tubs. VintageTub.com, a successful internet home improvement retailer is the exclusive supplier of the elegant Bella Casa line of exquisite bathroom tubs and fixtures.
VintageTub.com is hosting an online launch featuring the Bella Casa clawfoot and pedestal tubs and showcasing the new product line of British Telephone faucets and fixtures on Tuesday, March 8, 2011. The new line of Bella Casa faucets and fixtures selections include wide spout, gooseneck or down spout. All are constructed of solid brass and can be mounted to the tub wall or on the tub deck. Customers have their choice of finishes on the fixtures, supply lines and drains creating a perfect showroom bath. Choices of finishes include chrome, oil-rubbed bronze, polished brass, or satin nickel.
The expert sales staff at VintageTub.com is able to design a bathroom package with the upscale Bella Casa products to transform any bath into an in-home paradise.
"We are extremely excited to highlight this new Bella Casa line of quality faucets and fixtures," declared Dawn Bobeck, VP of Sales & Marketing for VintageTub.com. "They add a distinctive elegance to an already stunning line of classic bath items and complete the entire design package."
# # #