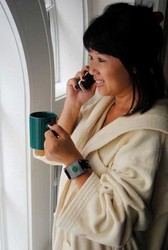 The Q Sensor's unique, wearable form factor is a real break-through for us.
(PRWEB) March 8, 2011
Affectiva, provider of technologies to help measure and communicate emotion, today announced that it won 25 major new corporate, university and market research customers in January and February 2011.
Affectiva is a Massachusetts Institute of Technology (MIT) Media Lab spin-off founded by two scientists who came together originally to create technology to help people on the autism spectrum. The company is commercializing new emotion measurement technologies - including the Q Sensor wireless biosensor and Affdex f acial expression software -- to make them broadly accessible and affordable for commercial, clinical and academic use.
The new customer growth points to rapid adoption of Affectiva's emotion measurement technology. The Affectiva Q Sensor was introduced in commercial beta in November 2010.
Customers are using the technologies in innovative ways to help improve people's experiences at home, at work, at school and at play. Some of the 25 new customers that Affectiva is spotlighting include the following:
> Center for Applied Special Technology (CAST), where research scientists Samantha Daley and Gabrielle Rappolt-Schlichtmann are using Q Sensors to measure the role of affect engagement and motivation in learning. It is part of a National Science Foundation-funded project to design flexible K-12 learning environments.
> A Vancouver, B.C. dental clinic where Dr. Doug Johnston, Dr. Phoebe Tsang and their team are leading a pilot study using a picture protocol, developed by hygienist, Kayla Ragosin-Miller, to make patients with autism more at ease during their dental visits. The Q Sensors used in this study serve as an objective measurement of emotional stress.
> Dartmouth College Department of Computer Science, in collaboration with University of Washington and University of California Berkeley, where assistant professor Tanzeem Choudhury is spearheading an effort to develop well-being systems that include Q Sensors to help monitor physical, mental and social health.
> Hamilton College Human-Computer Interaction Laboratory, where Dr. Leanne Hirshfield is using Q Sensors in an Air Force-funded study of computer users' mental states in order to enhance usability testing and to create adaptive computer systems.
> Sinerco, located in Gijón, Spain, where general manager Gustavo López is leading a team using Q Sensors to adapt workplaces to better meet people's physical, emotional and cognitive needs. Sinerco is also using Q Sensors with the Central University Hospital of Asturias (HUCA) in the pediatric intensive care unit on guidelines for prevention of pain in infants.
> University of Illinois Department of Human & Community Development, where Dr. Barbara Fiese, Dr. Blake Jones and others have launched a new study on family interactions during mealtimes and how family members react physiologically to a noisy home environment versus a peaceful one.
> University of Oregon School of Music and Dance, where Dr. Frank Diaz is using Q Sensors for research into affective responses to musical stimuli.
The Affectiva Q Sensor is a wireless skin conductance device that quantifies emotional excitement by measuring electrodermal activity, also called Galvanic Skin Response (GSR). It also measures motion and temperature, providing an objective biomarker that customers use to measure emotion information in natural settings.
Dr. Diaz said one of the key reasons he chose the Affectiva Q Sensor was its ability to measure affective response to music objectively in an unobtrusive way. "Music has the power to arouse powerful emotions in listeners, and music research uses scientific methods to find relationships between musical features and emotional responses. But our measurement techniques work best we don't interrupt the listener, so the Q Sensor's unique, wearable form factor is a real break-through for us," said Dr. Diaz.
About Affectiva http://www.affectiva.com
Founded in 2009, Affectiva grew out of collaborative research at the MIT Media Lab to help people on the autism spectrum. It applies innovations in affective computing to help understand how people feel in order to improve products and experiences. Affectiva's customers include leading companies and universities conducting market and clinical research. Its products include the Q™ Sensor wearable biosensor and Affdex facial expression recognition technology. Recently profiled in Forbes, The New York Times, and USA Today, Affectiva is privately held with funding from individuals and the Peder Sager Wallenberg Charitable Trust, represented by Lingfield AB.
###