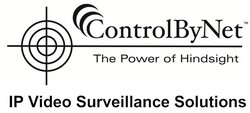 With full cloud capabilities, ControlByNet moves video surveillance to a new arena; including remote hosting, multiple location access - onsite, hosted or any combination - from a single cloud-based web login and mobile device access.
Norcross, GA (PRWEB) March 8, 2011
ControlByNet, (CBN), a leader in cloud-based, hosted video security surveillance solutions, announced today continued success in providing security and business advantages to its clients including businesses, homeowner's associations and commercial properties.
"ControlByNet's cloud-hosted solution has established the new model for video security surveillance," said Ryan Strange, CEO of ControlByNet. "With full cloud capabilities, ControlByNet moves video surveillance to a new arena; including remote hosting, multiple location access - onsite, hosted or any combination - from a single cloud-based web login and mobile device access."
Creating an Organizational Solution with Security on the Cloud
Many organizations including homeowner's associations, small to mid-size businesses and office complexes and facilities still rely on DVRs for their security needs. Often these DVRs are spread out over multiple locations, running on rebranded software providing the customer with a one-size fits all product; with no ability to link them together, centralize user access or monitor uptime or problems until an incident occurs.
Denver Children's Specialists moved from separate DVRs to ControlByNet's solution to monitor its six locations throughout Colorado. ControlByNet's solution is based on its i-flashback software. In the past, remote video access included downloaded front-end applications run from an onsite computer, with onsite storage and multiple logins for different sites. ControlByNet's i-flashback provides an easy to use, 100-percent browser-based application.
"We are constantly looking to utilize the latest in technology to improve our efficiencies and capabilities," said Jonathan Lee, partner in Denver Children's Specialists. "ControlByNet provides us with the full benefits of having our security 'on the cloud' including remote hosting, multiple location access from a single web login and access on mobile devices. It's an enterprise solution versus the usual model of many independent solutions being patched together which we wanted to avoid."
Key benefits and cost savings for the locations utilizing i-flashback REMOTE include:

no onsite recording devices required in many instances
key cameras recorded offsite, which is critical for security when onsite video could be compromised or 'disconnected'
grouping of remote cameras from different locations together through a browser interface; saving significant time in viewing/monitoring and enhanced ease of use.
With multiple locations, ControlByNet's ability to centrally link together Denver Children's Specialists locations with a single login removed the troublesome problem of remembering many different links or IP addresses for video access. All video surveillance servers, regardless if hosted by ControlByNet or at a Denver Children's Specialists site, are linked or 'attached' to each other allowing for centrally managed user accounts. This provides a true single web sign-on with levels of access for each of the employees. The manager at each location can see just his site, while the regional manager can see his area sites and the partners can see all of the sites as dictated by the security department, all from one login and company web address. Both solutions allow a centralized management system which saves money and provides greater control of the organizational security.
Beyond Security
ControlByNet has also worked closely with leaders in the recycling industry resulting in an unexpected business benefit.
Prior to the installation of the ControlByNet solution, drivers for the recycling company would have a set route each day or week and would go to their pick-ups which could have bins overflowing or ones with barely any metal. The recycling company and ControlByNet decided to try monitoring the bin capacity from the cloud. The project started with two bins and has grown to more than 20 bins in multiple states. Now drivers can look in on their bins and determine when they need to drive to the location for a pick up - not only saving personnel time but time on the road and important to the environment - gas and truck emissions. Managers can check driver on-time records, clean-up habits and do what is required to keep the customer happy.
These remote sites contain only network cameras and supporting hardware, with no recording device on site making it a true representation of an IP-based system, and providing unlimited growth and modifications for the future. The ability to check in on the bins remotely also offers top management the opportunity to look in at all the remote sites from the central monitoring station or from any other location via web browser.
Future Forward
Hosted video is one of the hottest trends in the video surveillance security market and when combined with recent advances in IP technology solutions, there is a great opportunity for cloud-based video surveillance security to experience rapid growth. A recent study by Lusax, a research group at Lund University in Sweden, found that the installation of a mid-sized IP video surveillance system costs less than installing a corresponding analog system.
"Based on our success in key industries including recycling, multi-site organizations, homeowner's associations, warehouse and retail outlets, we expect to see continued growth and a rise in overall adoption of cloud-based video surveillance," added Strange. "Whether hosted video, onsite video with hosted central authentication or our guard station solution, we work with our clients daily to ensure our solution is meeting their current needs while also prepared for the challenges of tomorrow. Our goal is to provide our customers, both large and small, one integrated solution that allows them to access their security on their terms and device of choice,"
About ControlByNet (http://www.controlbynet.com)
ControlByNet provides the most advanced adaptable hosted and managed IP-based surveillance solution on the market. ControlByNet's advanced software is the cornerstone for the new security surveillance business model. By leveraging Software as a Service (SaaS), CBN's solution integrates seamlessly across its products creating limitless installation scenarios. The hierarchal nature of the software allows a single log-in with multiple levels of access from any (Internet) location which leverages existing enterprise resources. With years of development, their software solution is flexible, future-proof and designed to lead the industry. Product offerings include i-flashback LOCAL and REMOTE and ip-LookOUT, its guard monitoring application. While the i-flashback interface is as simple to use as a nanny cam, both versions of the software are sophisticated enough to manage hundreds of remote cameras from a single browser; including Internet Explorer, Firefox or even an iPhone or iPad. They currently use AXIS for remotely hosted cameras but will expand to others as manufacturers provide IP cameras that are deemed highly efficient on the network. For more information, visit http://www.controlbynet.com.
For More Information:
Deanna Anderson
AquaPR
danderson(at)aquapr(dot)com
404-759-1890
# # #