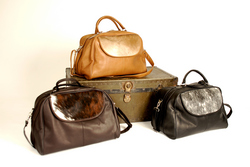 " Women love handbags and what we love is for a handbag to be beautiful and functional."
Hillsdale, NJ (PRWEB) March 9, 2011
The NYC Oscars on February 27, 2011 was held at the Carlyle Hotel with host Whoopi Goldberg. Every year Academy member Celia Weston organizes a lovely gift bag for attendees. This year Carol S. Miller Handbags sent an assortment of unique and distinctive leather accessories for this special night.
Soft, luxurious leather designed for function and appeal are the trademarks of this new line of handbags, messenger bags, briefcases, wallets, wristlets and more. Classy makeup, diaper, exercise and yoga bags will soon be added to the Carol S. Miller Portfolio.
This new designer is already getting great publicity with national network and cable TV placements. A recently crafted Thank a Great Teacher program will be rolling out in April in multiple school districts. Messenger Bags will be given to recognize excellent educators.
Other plans include expanding sustainable production options and creating jobs in the US as the business grows. Employing local labor is one of the goals of this corporate citizen.
We invite you to visit http://www.carolsmiller.com and see the portfolio of products. Salons, spas, resorts, cruise lines are perfect matches for this line of highcrafted leather goods.
Buyer and Media inquiries should be directed to contact in this release Joan A Joffa company publicist.
###