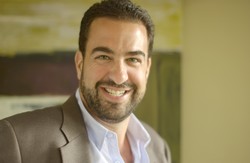 "More and more businesses are making Mendix's platform an integrated part of their application lifecycle and end users truly love the speed and flexibility of the product." - Paul Campaniello, VP of Global Marketing, Mendix
Boston, MA (PRWEB) March 8, 2011
Mendix, an agile business application platform and cloud services provider, announced today that Paul Campaniello has joined the company as Vice President of Global Marketing.
Campaniello brings more than 20-years of experience working with rapidly-growing, global software companies, including Lumigent Technologies, Exchange Solutions Inc., Precise Software and Savantis Systems.
At Mendix, Campaniello's responsibilities include developing Mendix's worldwide marketing strategy, execution and sales support.
"Mendix has already experienced significant growth and that speaks to the value its platform delivers," said Campaniello. "More and more businesses are making Mendix's platform an integrated part of their application lifecycle and end users truly love the speed and flexibility of the product; I am excited to join a team with such great potential."
After realizing its sixth consecutive year of triple-digit growth, Mendix is poised to expand internationally with its Agile Business Platform™. Campaniello's experience in creating visibility in emerging markets will be of significant importance as the company continues to globally mature.
"Mendix has grown organically since its conception in 2005," said Mendix CEO, Derek Roos. "We have always focused our resources on the research and development of an incredible platform. With the addition of Paul, I am delighted to see our marketing initiatives expand, and look forward to increasing awareness of our brand and our products."
About Mendix
Mendix improves business agility by increasing alignment between business and IT. Mendix's Agile Business Platform™ is a complete solution for agile application lifecycle management - it rapidly develops, deploys and manages applications that smoothly integrate with existing systems. Mendix has over 20,000 users worldwide and has been recognized by leading analyst firm Gartner as a Cool Vendor. Mendix is a global company that has been in business for over 5 years with offices in the US, UK, the Netherlands and South Africa. For more information, please visit http://www.mendix.com.
Mendix, the Mendix logo and The Mendix Agile Business Platform are trademarks or registered trademarks of Mendix, Inc. Other product and company names are property of their respective owners.
Tags: Agile Development, Agile Development Platform, Application Development Platform, Platform-as-a-service, PaaS, Business Agility, Custom Application Development, Enterprise Architect, IT Agility, Model Driven Development, SCRUM, Software Development Tools
###