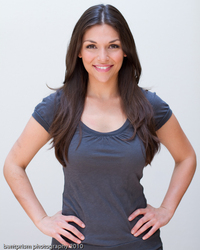 Planning my fairy tale ending has been a desire of mine for years now and I'm ecstatic to be joining the Weddzilla blog to share my wedding planning process." -DeAnna Pappas
Arlington, VA (PRWEB) March 8, 2011
DeAnna Pappas, 29, was the final woman remaining on the finale of The Bachelor, Season 11. She found out she was tapped to star as the next "Bachelorette" on an episode of The Ellen DeGeneres Show. DeAnna demonstrated her assertiveness and independent nature during The Bachelor, setting her apart from the other women and becoming an immediate fan favorite starring on The Bachelorette, Season 4.
It was DeAnna's relatable personality that made her a perfect fit for the Weddzilla blog,
the ultimate go-to site for wedding planning tips, advice, and inspiration. "I got engaged in May 2010 and I am so excited to be going through the wedding planning process! Planning my fairy tale ending has been a desire of mine for years now and I'm ecstatic to be joining the Weddzilla blog to share my wedding planning process; all my needs, wants, great finds, decision making, as well as the stress & frustrations," says Pappas.
DeAnna's addition to the Weddzilla blogging team continues Weddzilla's mission to give their community access to exclusive celebrity content, always keeping readers in-the-know on celebrity wedding news. In addition to offering readers the inside scoop on celebrity weddings, the Weddzilla blog also offers exclusive content from real engaged couples and the nation's top wedding professionals.
Before joining the team of Weddzilla bloggers, Deanna appeared on such shows as EXTRA, The Ellen Degeneres Show, Jimmy Kimmel, Good Morning America, Hollywood 411, TV Guide Channel, and many more. In 2008, DeAnna was nominated and won the Reality Performer of the Year at the FOX Reality Awards. DeAnna's wedding, which she describes as elegant & classic with a country, rustic twist, is set for October 22, 2011.
Weddzilla.com, the fastest growing online wedding portal, has created the most efficient, interactive, and social wedding planning experience for both engaged couples and wedding professionals. Engaged couples can browse user-generated wedding ideas such as wedding cakes or wedding dresses, get quotes from local wedding vendors, and invite their friends, family, or bridal party to help them plan their wedding. Wedding professionals can find brides by budget, location, or category and connect directly to them via the Weddifieds, all at no cost.
The Weddzilla blog is a part of the Weddzilla network, which serves the $80 billion wedding industry and $175 billion online retail industries. Other network sites include Weddzilla.com, Weddzilla Consulting, WeddHOT Facebook application, Ask Weddzilla, the Weddmark iPhone app, and DressRush.com.
For Media Inquiries
Sara Morgan
sara(at)weddzilla(dot)com
800-515-1930
###