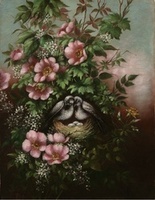 The American art world is afraid of forensics because it takes away their control.
Jacksonville, FL (PRWEB) March 10, 2011
Retired Senior Army Sergeant, Victor Hall, reports that the greed, pride, and arrogance of the art world continue in stark contrast to anything else he knows of in this country. Mr. Hall is in possession of a signed painting by Martin Johnson Heade that he picked up at a flea market. He is challenging the art world to perform forensic testing on the work and let the forensics prove it is genuine.
The science exists to verify the authenticity of this painting. There is a sample of Johnson Heade's signature available for comparison and forensic testing allows for the testing of the paints used to create this masterpiece. Hall says the American art world is afraid of forensics because it takes away their control.
Hall has stated that challenges of the wisdom and fairness of the art world lead to the challengers being threatened with the wrath of God. This is based on the fact that he has been threatened and put down by art "experts", though none were brave enough to contact him following his last press release. They lust for money, material, and power, and there are those who probably started out as decent Americans, but have compromised their values in lieu of the purse.
They show a disdain for those who are not rich or do not come from the better schools. Their envy is quite great as they need someone to look down on. They are very slothful when it comes to recognizing others as humans with feelings.
Hall said an art gallery in New York City on the East side was communicating with him a few years ago and he could hardly go on line without being bothered. There was an attempt by this gallery to make him feel that he was stupid and that this painting was not what he proposed, after an exhaustive exchange of emails over a number of days we finally got to the part were this person insisted that Hall said the painting was for sale. Hall never said the painting was for sale. He only stated what he was told he could get for it. This same gallery said after Hall informed that he is doing a press release on the painting "they will not believe you".
Hall stated this is the same position Satan takes as he counts on disbelievers in Christ.
Hall said the same gallery did threaten to testify that this painting is not a Heade if need be. This is corruption said Hall.
Hall knows this work to is the greatest painting ever produced by Heade and that it is struggling to receive recognition despite the fact it is signed and that a recognized sample signature is available for comparison. However, the pride of the art world will not allow recognition.
Hall issues this challenge to the art world, let's make the situation fair. Use forensic testing to test the authenticity of this painting and be done with it. Why is the art world in America so afraid of forensics? To the critics, please know that a number of art historians that are very familiar with Heade's work, one which is prominent are of the opinion that this work can be authenticated as Heade's.When science is rejected it raises suspicion.
Hall issues a special thanks to the foreign art correspondent that aired his story, moreover your appreciation for justice, fine art, dignity, respect, morality, and objectivity brought tears to his eyes as he now believes that the world can be saved. Thank you for helping a poor disable American veteran in a country that he risked his life for only to be ignored by art magazines, press, and TV as he fights the villains.
###