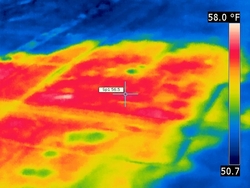 "The use of our infrared services allows our clients to maximize the use of their physical assets and improve the financial performance of their businesses and buildings." Christophor Jurin, President
Telford, PA (PRWEB) March 29, 2011
Roof Asset Management Inc. (http://www.roof-assets.com) is proud to announce that Christophor Jurin (RAM President) and Edward Mullen have received their Level 1 Infrared Thermographer certifications from Infraspection Institute. The Infraspection Institute is the world's oldest and most well respected independent training and certification firm for thermographers.
The Level 1 Certified Thermographer certifies that thermographers have the knowledge to complete a wide variety of qualitative infrared studies. Applications for infrared thermography include moisture surveys, electrical system reviews, electro/mechanical systems reviews, and building envelopes/roof scan applications. The technology is used to complete predictive maintenance on existing assets as well as quality assurance checks on newly installed equipment. In addition, new and evolving applications are being continually developed for the use of this exciting technology including equine and animal health.
Many businesses complete preventative maintenance which leads to planned downtime. Planned downtime has a high cost to the business. The costs associated with shutting down equipment are a cost which most businesses absorb without considering potential alternatives. Through the use of infrared technology businesses can implement a predictive maintenance plan in lieu of the preventative maintenance plans. By implementing a predictive maintenance plan, the costs associated with regularly scheduled shutdowns can be minimized and businesses can save money.
Businesses are continually looking for opportunities to implement a "green" approach to managing their physical assets and improving the operations of their business. Infrared technology can support a "green" approach to building and equipment management. For example, annual infrared scans of existing roof systems can detect moisture infiltration of existing roof assets allowing the wet roofing to be extracted and prevent further breakdown of the roof assembly. The life of a roof system can be extended with a regularly scheduled infrared scan program and help prevent costly roof tear-offs.
In addition, the cost of energy for building owners is becoming a major line item in their annual budget. However, many building owners do not realize how much energy is lost through gaps in their building envelope. The use of infrared technology can help building owners locate these weaknesses in their building's insulation system. Great opportunities exist for building owners to be able to enhance their building's efficiency and have the savings in energy expenses pay for the cost of the infrared survey and cost of repairs or enhancements.
"We are excited about the application of infrared technology in the operations of our clients' buildings and businesses. The use of our infrared services allows our clients to maximize the use of their physical assets and improve the financial performance of their businesses and buildings."
Christophor Jurin, President
###