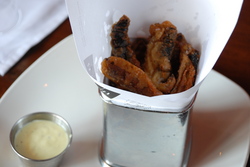 "Opening a/k/a back home in Pasadena is very exciting for us. We can now share for the first time with our friends here the amazing flavors we discovered while in California wine country." --Robert Simon
Pasadena, CA (PRWEB) March 15, 2011
Highly regarded California restaurateur unveiled his wine country-inspired concept of an American Bistro to his biggest fans when a/k/a celebrated its soft opening February 9th , 2011 at 41 Hugus Alley at Old Pasadena's stylish One Colorado Plaza. Specially-priced valet parking is available at Union and Delacey infront of Forever 21 for just $5. For more information or reservations, please call 626.564.8111 or visit http://www.akabistro.com.
a/k/a (An American Bistro) is the latest concept by renowned restaurateurs Deborah and Robert Simon, who also have operated Bistro 45 for the last 20 + years in Pasadena, and previously launched the a/k/a concept in St. Helena two and a half years ago to critical acclaim.
"Opening a/k/a back home in Pasadena is very exciting for us. We can now share for the first time with our friends here the amazing flavors we discovered while in California wine country," said Robert Simon, whose seasoned culinary experience includes working with Chez Panisse Founder Alice Waters and the ubiquitous Narsai David, among others.
In 1983 Robert and his father Alvin opened the long treasured and fondly remembered Café Jacoulet on Raymond at a time when Old Towne Pasadena was just beginning its rebirth.
a/k/a is a modern California Bistro. Drawing flavors and menu focus from California wine country sensibility and from specific, sustainable, and, where ever possible, organic sources is what a/k/a is all about. a/k/a's sophisticated yet comfortable ambiance will be highlighted by gracious and abundant hospitality and a diverse menu featuring choices for every taste. Chef Jonathan Wiener's vivid flavors pair naturally with an exceptional and well-priced wine selection and hand-crafted brews from California.
Chef Jonathan's (formerly of Etoile at Domaine Chandon, One Star Michelin) unique and delicious menu offers a smart presentation on stylish yet comfort-driven plates which highlight the quality of ingredients and details of presentation such as a Filet Beef Tartare served with pickled Dijon mustard and egg yolk and a Charcuterie platter featuring house country pate, foie torchon, Parma Prosciutto and handmade San Francisco salume served with mixed olives, pickled fennel and house-made mustard.
Other house favorites include crispy Portobello fries with truffle aioli, grilled and sautéed fresh Monterey calamari, all-natural Certified Angus burgers, and main entrees such as PEI mussels with house smoked Manila clams served with house chorizo, a Cassoulet of duck confit served with Adzuki beans and roasted garlic, and a Snake River Kobe Flat Iron served with steak fries, Blue Lake beans and a Cabernet reduction. a/k/a cures its own pork, makes its own bacon, pickles, corn beef and cured cabbage, which they call "ourkraut."
The inviting 4,500 square-foot restaurant's interior features a compelling 12-seat rectangular bar, thick wood butcher block table tops, comfy substantial booths and chairs, a glass enclosed wine room storing more than 2,000 bottles and two private dining rooms (one for up to 8 guests and one for as many as 28 guests), as well as a patio overlooking the plaza with seating for up to 60 guests.
For media inquiries about this Los Angeles-based bistro, please call Claudia Schou at (562) 983-8139.
###