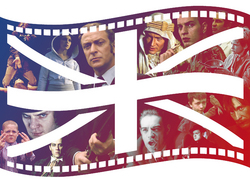 the perfect opportunity to catch up on all those films you really should have experienced up there on the big screen where they belong
(PRWEB) March 9, 2011
Actor Jonathan Pryce ('Pirates of the Caribbean' trilogy, 'Tomorrow Never Dies' and 'Evita') will present the second of Time Out Film Club's season of great British films, the uncut version of Terry Gilliam's futuristic fever-dream 'Brazil', which stars Pryce.
Time Out Film Club's screening will take place at the Cineworld Haymarket in London on March 29th where Pryce will host an exclusive one-off, screening of this iconic movie.
This will be Time Out Film Club's second of 10 screenings of films from Time Out's 100 Best British Films, as recently chosen by 150 film industry experts. These rare cinema screenings are open to the public with tickets costing just £12, around the same price as a regular West End cinema ticket. Each screening will feature introductions from leading members of the British cinema world.
Tim Arthur, Director of Time Out Live, comments "The season offers people of London the chance to see some of the greatest British films ever made, presented by some of the film world's most influential voices. A movie aficionado's dream and the perfect opportunity to catch up on all those films you really should have experienced up there on the big screen where they belong."
Last month, a panel of film experts including Sam Mendes (Director of American Beauty) and Wes Anderson (Director of Fantastic Mr Fox) selected 'Brazil' as one of the Time Out's 100 Best British Films.
On its initial release in 1985, 'Brazil' became a cause célèbre in the battle between art and commerce when Universal studios tried to release a cut version on American screens. Time Out will of course be showing Gilliam's full, unexpurgated version, with terrorist bombings, dissolving grannies, psychotic ex-Pythons and furious De Niros.
Tickets for this uncut screening of 'Brazil' introduced by Jonathan Pryce are on sale now, with limited seats still available at http://timeout.com/filmclub.
A list of Time Out's 100 Best British Movies is hosted on the Time Out website and has proved incredibly popular, attracting over half a million visitors in the first four days of going live.
100 Best British Films Venice Competition
Win a trip for two to Venice, the beautiful setting of 'Don't Look Now', the film that topped Time Out's Best British Films. For further details and to enter the competition, visit http://www.timeout.com/bestfilmvenice.
timeout.com/film is the destination website for film lovers, featuring over 30,000 film reviews, the latest film releases and cinema times for your local cinema. Visit us for lively debate, interviews with film directors and all the latest festival and award news.
For further information and for images, please contact:
Jayne Stala, Lucy Gordon or Adrian Ma at Komodo PR on timeout(at)komodopr(dot)com or call 020 7680 5520.
About Time Out
Time Out is the definitive source of essential information, recommendations and bookings for going out in over 50 of the world's major cities.
We provide 17 million locals and travellers worldwide with independent, up-to-date and accurate information through our website, travel apps, magazine, city guides and live events. Wherever you find Time Out, you'll find the very best that city has to offer.
For exclusive offers, competitions, recommendations and bookings visit: http://www.timeout.com/london
# # #